illustrator
Get flash to fully experience Pearltrees
Quick Tip: Create a Shiny Abstract Background
Follow this quick tip and learn how to draw a shiny abstract background. We will use a very useful Script called Vary Hues to speed up the coloring process, along with the Transform effects, a Scatter brush and a little dose of Gradient Mesh. Two versions await you so let's get started! Step 1 First open a new document. Now, take the Line Segment Tool (Backslash) and click anywhere on your artboard to open the Options window.
All Categories | Vectology.com
VforVectors - All About Illustrator
27 Fantastic Tutorials for Learning Illustrator's Warp Tools
Playing around with the settings for each of the Warp Tools is a great way to get to know each one, but it certainly can become quite time consuming, especially if you are one to get lost in design. Sometimes, following a tutorial can be better for limiting your play time but also for seeing the tools in action. The following list includes tutorials for CS5 as well as for earlier CS versions of Adobe Illustrator.
Illustrator & Vector Tutorials - VECTORTUTS
Vector Art | Free Vector Stock and Graphic Illustration Downloads
Adobe Illustrator Tutorials & Effects | Vector Diary
Vectips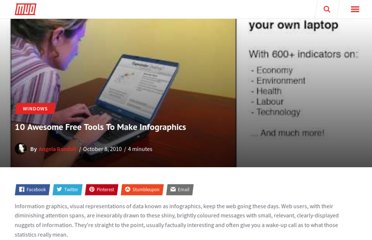 10 Awesome Free Tools To Make Infographics
Who can resist a colourful, thoughtful venn diagram anyway?
20 Adobe Vector Illustration Graphics Tutorials
Vector illustration is a popular technique of many digital illustrators worldwide.
Vector NET - The Vector Art Network
How To Create a Colorful Logo Style Icon in Illustrator
Follow this step by step to create a vibrant and colourful logo style icon graphic. This style of abstract three dimensional shape has become a popular trend in the world of logo design. Today we'll look at how to build the graphic in Illustrator using a range of tools and techniques.
Mauro Palacios /// Creative & Art Director Portfolio
Master dynamic gradient techniques - Illustrator Tutorial
Many works that look complicated are really made from simple elements. In this tutorial, Russian artist Alexandra Zutto shows how to build up complex, beautiful images by patiently layering and building up small, straightforward segments, always varying them to prevent monotony. For this piece, which Zutto created for the Blood Sweat Vector exhibition in Berlin, she says: "I tried to reproduce the tundra's atmosphere, with its pale sun and soft lighting. It required looking closely at a lot of references to understand how I can achieve these kinds of effects."
Illustrator Tutorial: Gradient Mesh Flower | Vectordiary
Illustrator Tutorial: Gradient Mesh Flower
iDesign * Vectors - Featuring the best Free Vectors from around the web. Updated Daily!
Illustrator-MAESTRO YukioMiyamoto
Free Photoshop Tutorials @ PinkZAP.com » How to Make Circle Pixels (Pop-art Style)
Open the image you want to edit in photoshop.
Anchorpoint - Free Vector Art Community
Illustrator & Vector Tutorials