Games
Delta Green
Free Wargame Rules - The Download Page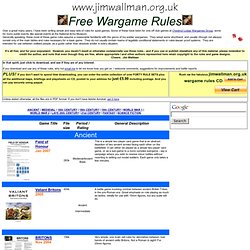 Follow Me, Men! Updated Jan 2005 One Brain Cell Heroic Fantasy Wargame Rules.
freewargamesrules - Home
Mike's 2nd Wargames Page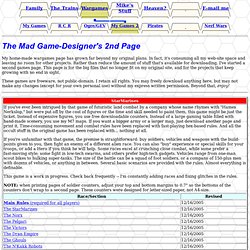 Not a game, but a set of counters for naval battles. If you ever wanted to re-enact Jutland or Leyte Gulf, but your budget for miniatures limited you to the Monitor vs the Virginia, your ships have come in! I'm recreating every major warship that existed from the 1890's to the end of WWII, plus many ships that were started but never finished, or proposed but never built. They are sized for standard hex maps, but they're also suitable for games that use more realistic movement. They're all to the same scale (roughly 1:9600, or 1 pixel = 8 feet). All ships are drawn as originally built.
Junior General Home Page
Junior General Home Page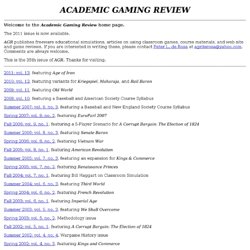 Welcome to the Academic Gaming Review home page. The 2011 issue is now available. AGR publishes freeware educational simulations, articles on using classroom games, course materials, and web site and game reviews.
Academic Gaming Review Home Page
Update notes for writeups.org
Atomic Overmind Press
Diehard GameFAN
Multi-Man Publishing, Inc. > Home
Critical Hit, Inc. Web Portal
Etranger: The Military in 2300AD
2300 AD Collective
The 2300 AD Collective was started in November of 1998 as a resources for many things 2300 AD related. Over the years the site has moved, reinvented itself and it is my hope that it is in its final home and soon to be final configuration. Over the next couple of months many things will start showing up here from the old site and hopefully before too long everything will be here to be enjoyed once again. So visit us often and enjoy. Site wide Disclaimer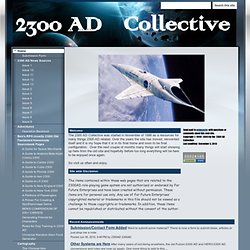 Paul Mulcahy's Pages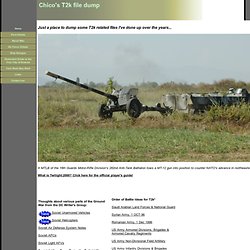 Chico's T2k file dump
And to give Marc Miller his due credit: The Twilight:2000 game in all forms is owned by Far Future Enterprises. Copyright 1981 - 2012 Far Future Enterprises. Twilight:2000 is a registered trademark of Far Future Enterprises.
Role Playing Game Section - RPG Forums
RPGGeek
Margaret Weis Productions, Ltd.
Classic Marvel Forever - MSH Classic RPG | Home Page
Basic Roleplaying Central
Green Ronin Publishing: Be Your Own Master
Avalanche Press