Games
Delta Green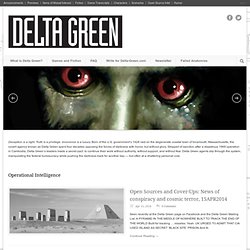 Deception is a right. Truth is a privilege. Innocence is a luxury.
Free Wargame Rules - The Download Page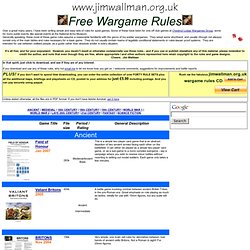 Follow Me, Men! Updated Jan 2005 One Brain Cell Heroic Fantasy Wargame Rules.
freewargamesrules - Home
Mike's 2nd Wargames Page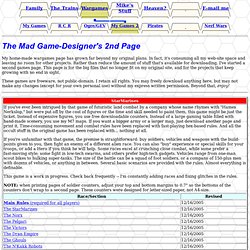 Not a game, but a set of counters for naval battles. If you ever wanted to re-enact Jutland or Leyte Gulf, but your budget for miniatures limited you to the Monitor vs the Virginia, your ships have come in! I'm recreating every major warship that existed from the 1890's to the end of WWII, plus many ships that were started but never finished, or proposed but never built. They are sized for standard hex maps, but they're also suitable for games that use more realistic movement. They're all to the same scale (roughly 1:9600, or 1 pixel = 8 feet). All ships are drawn as originally built.
Free and User Supported A free, user supported community of history enthusiasts taking on the challenge of drawing and documenting all of history. Our community has designed Everything from the simple stone age caveman to Polish Soldiers sitting in Afganistan.
Junior General Home Page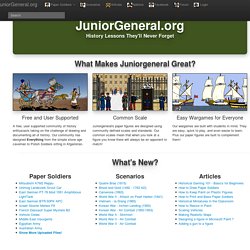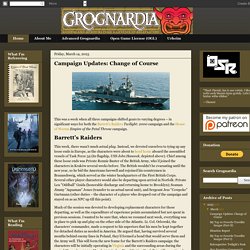 Reviewing almost anything James Raggi writes poses unique challenges, but it's his adventures that are particularly troublesome to me. Partly, it's because Raggi's understanding of and approach to fantasy is often so different from my own. I don't think any of the adventures he's written to date are ones I can imagine myself as having written. Mind you, that's a good thing! To my way of thinking, what separates a good adventure module from a bad one is that a good one gives you ideas -- whether in rough or polished form -- that you could never have come up with yourself.
Goal: This web site is intended to promote the use of historical simulations as a tool for teaching history by providing free resources that anyone can use. The simulations make use of historical miniatures (paper or plastic toy soldiers), maps and counters, and matrix arguments. The simulations are designed for students in grades 6 - 8. Each scenario is complete with everything needed to run the simulation except dice and rulers. Contributions, Questions, and Feedback Welcome!
Junior General Home Page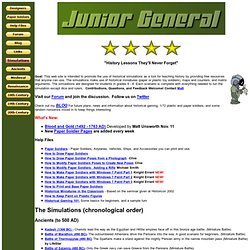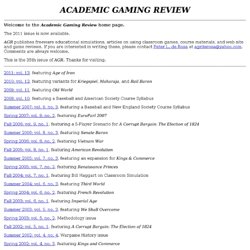 Welcome to the Academic Gaming Review home page. The 2011 issue is now available. AGR publishes freeware educational simulations, articles on using classroom games, course materials, and web site and game reviews.
Academic Gaming Review Home Page
Update notes for writeups.org
I'm not sure how many recommendations we'll be able to do this year, but here are Peter's. Peter is probably the longest running listmember still around having joined in September 1992, a prominent contributor, the jester of the end times and the minister of the mad sciences of Worgistan. The Filth TPB – Are you: troubled by persistent, nagging soul-aches?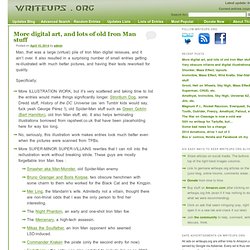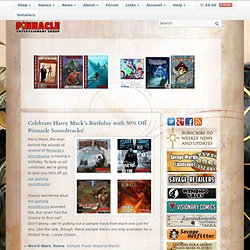 The fine folks that brought you Hero Lab are at it again! Realm Works is made to help you manage your campaigns—spend more time gaming and creating amazing stories instead of handling notes, charts, maps, and all that other paperwork that builds up on you! You can even use Realm Works to help you bring digital content into your game—from stat blocks to image, even audio and video files. Don't want to tip your hand too early? You can use their Fog of World tools to reveal only what the players have seen.
As the release of the Fate Core edition of The Day After Ragnarok approaches, we present the second in a series of previews. This time, we're talking resources! Many parts of the world after Serpentfall, like the Poisoned Lands of North America, are places of scarce resources, scavenged equipment, and jealously hoarded supplies. This required Fate Core designer Leonard Balsera to engineer some additional rules and guidelines for handling this kind of deprivation…and potential poverty! Resources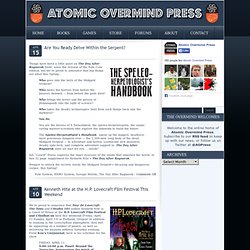 Atomic Overmind Press
For many of us, Star Frontiers was our first foray into science fiction role-playing. For a few of us, it was our very first role-playing game! We recall the first time we peeled the plastic wrap from the box, felt those little plastic ten-sided dice in our hands. We flipped through the book and were instantly transported to the setting through the artwork of Easley and Elmore, who brought the amazing races to life.
Star Frontiersman | Magazine!
Diehard GameFAN
Multi-Man Publishing, Inc. > Home
Critical Hit, Inc. Web Portal
Etranger: The Military in 2300AD
2300 AD Collective
The 2300 AD Collective was started in November of 1998 as a resources for many things 2300 AD related. Over the years the site has moved, reinvented itself and it is my hope that it is in its final home and soon to be final configuration. Over the next couple of months many things will start showing up here from the old site and hopefully before too long everything will be here to be enjoyed once again. So visit us often and enjoy. Site wide Disclaimer
Paul Mulcahy's Pages
These pages were built using Word 2007, assembled using Web Expressions 4, and in some cases, HTML has been tinkered with manually. It should be noted, or even obvious, that the Twilight 2000 stats on the site are in a state of enourmous flux. This is because I am updating basically everything little by little, correcting stats and updating the information, as well as adding on new stuff and new versions of old stuff.
Chico's T2k file dump
And to give Marc Miller his due credit: The Twilight:2000 game in all forms is owned by Far Future Enterprises. Copyright 1981 - 2012 Far Future Enterprises. Twilight:2000 is a registered trademark of Far Future Enterprises.
Role Playing Game Section - RPG Forums
RPGGeek
Margaret Weis Productions, Ltd.
Facebook Twitter Read More Oct 14, 2013 1:43 pm Read More Oct 15, 2013 1:43 pm Read More Oct 15, 2013 1:43 pm New Blog!
Classic Marvel Forever - MSH Classic RPG | Home Page
Basic Roleplaying Central
Green Ronin Publishing: Be Your Own Master
Avalanche Press