Reuse / Recycle
Fun with Foam Printing - Easy Tutorial. I loved this idea because not only can you recycle these horrid polystyrene containers, but the process is really simple.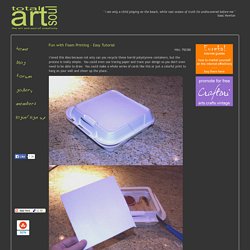 You could even use tracing paper and trace your design so you don't even need to be able to draw. You could make a whole series of cards like this or just a colorful print to hang on your wall and cheer up the place. Macgyver Challenge: Old Board Games. Do-it-yourself decorating allows you to customize your home, apartment, condo, or room with DIY accents that transform your space on a budget without completing a full-scale remodel.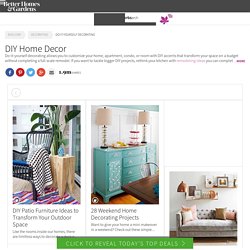 Whether you're a beginner or an expert, we guide you… read more Do-it-yourself decorating allows you to customize your home, apartment, condo, or room with DIY accents that transform your space on a budget without completing a full-scale remodel. Tinted Mason Jars in Rainbow. I love using mason jars for decorating and a seemingly endless supply of craft projects.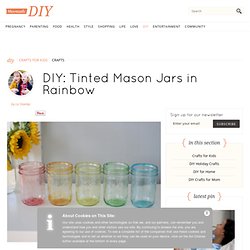 But rainbow tinted mason jars, just like the vintage ones you can never find anymore? This one might be my favorite project with mason jars yet! 10 T-Shirt Scarf Tutorials. Tutorials for Recycling T-Shirts. So way way back, in June, I wrote this Studio Organization post, about starting the process of organizing my studio by cleaning out the closet full of junk.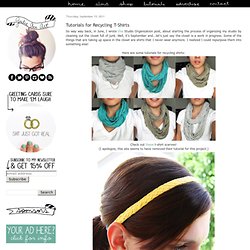 Well, it's September and...let's just say the closet is a work in progress. Some of the things that are taking up space in the closet are shirts that I never wear anymore. I realized I could repurpose them into something else! Here are some tutorials for recycling shirts: Check out these t-shirt scarves! The Ramseys Finally Have Coasters. We finally have coasters!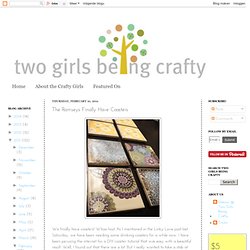 Whoo hoo! As I mentioned in the Linky Love post last Saturday, we have been needing some drinking coasters for a while now. I have been perusing the internet for a DIY coaster tutorial that was easy with a beautiful result. Well, I found out that there are a lot. Lucy Designs: Giant Wooden Butterfly. Just finished this giant butterfly using picture frame molding and other pieces and parts This butterfly was actually featured on It was one of those things that was in my head and had to get out, I figured, the bigger, the better.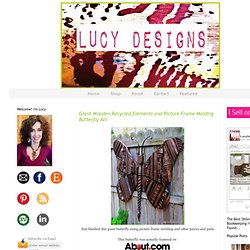 Tee for Tea. As you might guess, we're a bit obsessed with all things T-shirt-related over here at Generation T (just a little).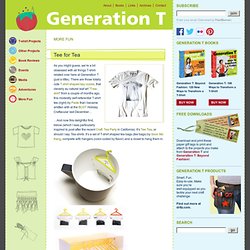 There are those totally cute T-shirt shaped key cozies, that cleverly au naturel leaf art "Tree-shirt" from a couple of months ago, this modestly self-referential T-shirt tee (right) by Paste that I became smitten with at the BUST Holiday Craftacular last December… …And now this delightful find, below (which I was particularly inspired to post after the recent Craft: Tea Party in California): It's Tee Tea, or should I say Tea-shirts.
Spiral Hanging Decorations from Recycled Plastic Bottles : Step-by-Step Tutorial | Kids Birthday Party Ideas. New here?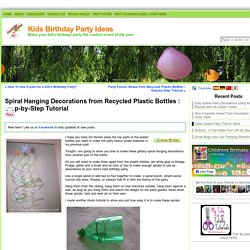 Like us on Facebook to stay updated of new posts. Email Share Sharebar 114 Email Share. Flashback: Jam Jar Lanterns : Daily source of DIY craft projects and inspiration, patterns, how-tos | Craftzine.com. In a matter of days, it will officially be summer in the northern hemisphere.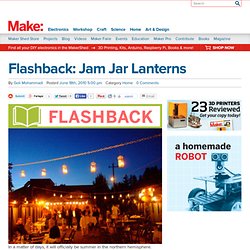 Parties, weddings, barbecues, and quality outdoor time all call for some sweet outdoor lighting when the sun goes down. It's a perfect time to flashback to the Jam Jar Lanterns tutorial from the pages of CRAFT Volume 10, the Celebrate issue, written by our own wildly talented Brookelynn Morris. She originally came up with this charming design, and the rig that makes making a number of them a breeze, when she was making a set for her dear friends Harper and Christian's outdoor wedding (reception pictured above). The lanterns look so lovely strung up on a chain and cast a warm, soft hue. Can Art: A Way To Recycle Some Tin Cans. Offbeat Mama | How I turned an IKEA changing table into a co-sleeper. Co-sleeping for you and me Before we had the Bot, I had planned on her sleeping in her crib from the start.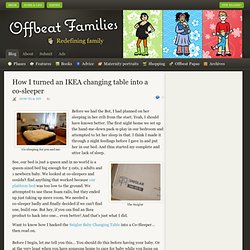 Yeah, I should have known better. The first night home we set up the hand-me-down pack-n-play in our bedroom and attempted to let her sleep in that. I think I made it through 2 night feedings before I gave in and put her in our bed. And thus started my complete and utter lack of sleep.
---