Gardening
DIY Vertical Succulent Planter. SpringPlanting - Calendar. In the Garden (KCBS & KCAL 2006) | Welcome to SaiFou – Inspiring images. Responses Reply Bbelaso7 Tlcnan.
99 Things You Probably Didn't Know You Can Compost. Anybody who has a composting bin or compost pile at their house knows that old apple cores, banana peels and potato skins can be composted.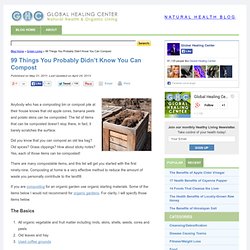 The list of items that can be composted doesn't stop there, in fact, it barely scratches the surface. Did you know that you can compost an old tea bag? Old spices? Building a Vegetable Garden - No Dig Natural Gardening - Preparing an organic Garden. The No Dig Garden is built on top of the ground, so you can start building a vegetable garden anywhere.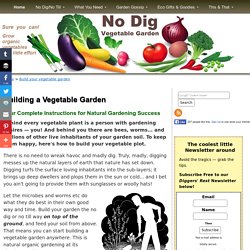 This is natural organic gardening at its simplest and best. Preparing a vegetable garden of this sort is extremely attractive for those sites that have poor soil or invasive weeds. Plants and Flowers that will Grow Well in your Rock Garden. How to Turn a Pallet into a Garden. Good news and bad news.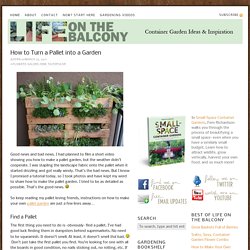 I had planned to film a short video showing you how to make a pallet garden, but the weather didn't cooperate. I was stapling the landscape fabric onto the pallet when it started drizzling and got really windy. That's the bad news. Build a Garden in One Day - How to Get Started. One benefit of a raised bed is that you don't need to dig out all the grass.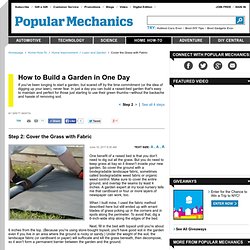 But you do need to keep grass at bay so it doesn't invade your new garden. So cover the ground with a biodegradable landscape fabric, sometimes called biodegradable weed fabric or organic weed control. Make sure to cover the entire ground, and overlap the seams by least 4 inches. A garden expert at my local nursery tells me that cardboard or four or more layers of newspaper can work, too. When I built mine, I used the fabric method described here but still ended up with errant blades of grass poking up in the corners and in spots along the perimeter.
Cinderblock Succulent Planter! — J Peterson Garden Design. Last year, there was a project on Apartment Therapy's site that made the rounds online–a super cool, industrial-looking planter made out of cinderblocks.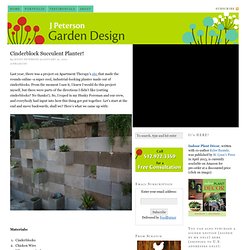 From the moment I saw it, I knew I would do this project myself, but there were parts of the directions I didn't like (cutting cinderblocks? No thanks!). So, I roped in my Hunky Foreman and our crew, and everybody had input into how this thing got put together. Let's start at the end and move backwards, shall we? Handmade Wednesday: Cinder Block Garden Planter. July 20, 2011 23 comments Please, please, please forgive me for being late with this post!
The Art of Weeding: Part 2. In Part One of this series on organic weed control we learned about how weeds affect our garden and tips to prevent them in the first place.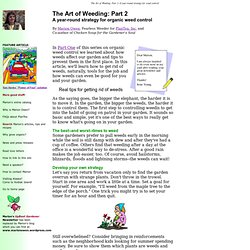 In this article, we'll learn how to get rid of weeds, naturally, tools for the job and how weeds can even be good for you and your garden. Real tips for getting rid of weeds As the saying goes, the bigger the elephant, the harder it is to move it. In the garden, the bigger the weeds, the harder it is to control them.
---