News/information/media
Croatian scientists introduce new antioxidant - General News. Agrokor signs a deal with Sberbank Russian bank Sberbank has this week agreed to lend 600 million Euro to Croatian company Agrokor.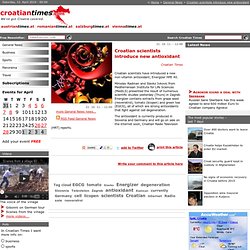 Grave diggers turned into gold diggers in Osijek The trial of fourteen employees of a cemetery and funeral service in the city of Osijek, eastern Croatia, accused of stealing gold and jewellery from graves is expected to start in May. Croatia 20th on FIFA ranking Croatia will have a great opportunity to improve the ranking when taking part at the World Cup in Brazil this summer. 80,000 people expected at Red Bull Air Race Some 80,000 visitors are expected in the western Croatian town of Rovinj this weekend at the Red Bull Air Race. A new book tells story on notorious prison Goli Otok The book "Goli Otok - Hell in the Adriatic" that tells the true story of Josip Zoretic's tragic experience and survival as a political prisoner of the former Yugoslavia's most notorious prison is now available on Amazon.com.
Cravat is a trademark of Croatia. Cravat, die Krawatte Croatian soldiers served in many European armies since the seventeenth century.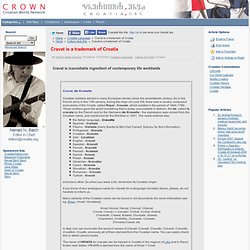 So in the French army in the 17th century, during the reign of Louis XIII, there was a cavalry composed exclusively of the Croats, called Royal - Cravate, which existed in the period of 1664-1789. These soldiers gave the world something that is today unavoidable in fashion: the tie, called la cravate by the French and by the Germans die Krawatte - the expression was coined from the Croatian name, and mentioned for the first time in 1651. The name entered also the Italian language - Cravatta Spanish - Corbata Filipino - Korbata (many thanks to Mrs Violi Calvert, Sydney, for this information) Portuguese - Gravata Croatian - Kravata Irish - Carabhat English - Cravat Swedish - Kravatt Finnish - Kravatti Flemish - Krawaat Danish - Kravat Polish - Krawat Ukrainian - Kravatka Czech - Kravata Slovakian - Kraváta Romanian - Cravata Turkish - Kravat and many other.
Croatian Researchers Develop Cheaper Shape Memory Alloys. By Cameron Chai The project has been led by a researcher at Zagreb University, Professor Mirko Gojic and it has received tremendous support from EUREKA.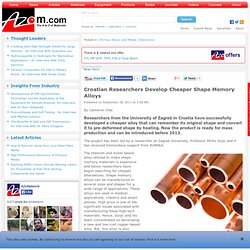 Shape memory materials for use in smartphones and high-tech gadgets The titanium and nickel based alloy utilized to make shape memory materials is expensive and hence researchers have begun searching for cheaper alternatives. Croatian scientist gives new hope to rapidly ageing children. Wednesday, 16.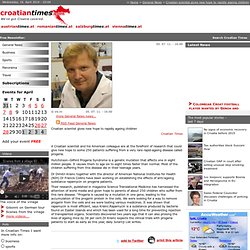 April 2014 - 10:04 :: Home > General News > Croatian scientist gives new hope to rapidly ageing children.
---