WEB-DESIGN
Beginners Guide to Flash. 25 (NEW) Useful Professional Photoshop Web Layout Tutorials. Using Landmarks Makes Page Layout Easy. A design may have impact.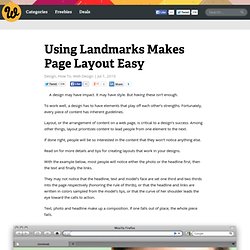 It may have style. But having these isn't enough. Starting Out Organized: Website Content Planning The Right Way - Smashing Magazine. So many articles explain how to design interfaces, design graphics and deal with clients.
But one step in the Web development process is often skipped over or forgotten altogether: content planning . Sometimes called information architecture, or IA planning, this step doesn't find a home easily in many people's workflow. Design a Beautiful Website From Scratch. Have you ever wanted to design a beautiful website but just didn't know how?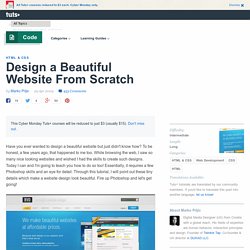 To be honest, a few years ago, that happened to me too. While browsing the web, I saw so many nice looking websites and wished I had the skills to create such designs. Today I can and I'm going to teach you how to do so too! Essentially, it requires a few Photoshop skills and an eye for detail. Through this tutorial, I will point out these tiny details which make a website design look beautiful. Image Slideshow HTML Generator. Jump to navigation Description The following wizard generates the code for creating a image slideshow that will allow visitors to flip through a series of photos on your website.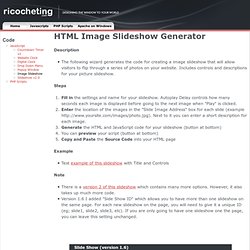 10 Principles Of Effective Web Design - Smashing Magazine. Advertisement Usability and the utility, not the visual design, determine the success or failure of a web-site.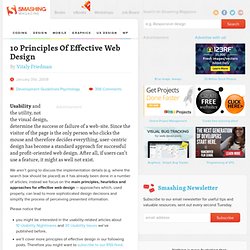 Since the visitor of the page is the only person who clicks the mouse and therefore decides everything, user-centric design has become a standard approach for successful and profit-oriented web design. Create a free website and a free blog.
---