Google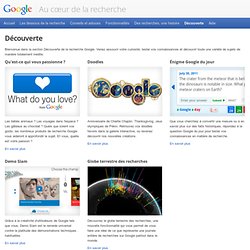 Bienvenue dans la section Découverte de la recherche Google. Venez assouvir votre curiosité, tester vos connaissances et découvrir toute une variété de sujets de manière totalement inédite. Qu'est-ce qui vous passionne ?
Search Playground · Inside Google Search
Advanced Search
Google Shows Reading Levels for Search Results
Google's advanced search page has a new feature that lets you restrict results to a certain reading level. You can choose from showing basic results, intermediate results, advanced results or annotating the results with reading levels. "Sometimes you may want to limit your search results to a specific reading level.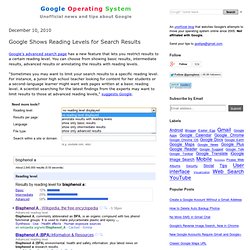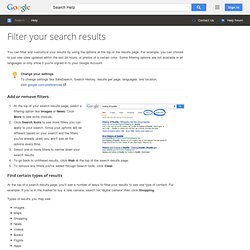 Sometimes you may want to limit your search results to a specific reading level. For example, a second language learner may want more basic sites, a middle school teacher looking for educational material for her students may look for intermediate resources, and a scientist searching for the latest findings from the experts may want to limit results to those at advanced reading levels. Google Search - Reading level Did you know that you can filter your Google search results by reading level? Watch this video to learn more about the reading level tool!
Reading level - Web Search Help
Usage rights - Web Search Help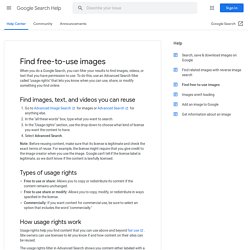 Take advantage of the usage rights filters on the Advanced Search and Advanced Image Search pages to find web content (such as text, videos, or images) you can reuse, share, or modify. Anyone can browse the Web, but usage rights come into play if you're looking for content that you can take and use above and beyond fair use. Site owners can use licenses to indicate if and how content on their sites can be reused.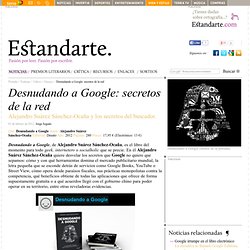 Desnudando a Google Alejandro Suárez Sánchez-Ocaña - Estandarte
Desnudando a Google, de Alejandro Suárez Sánchez-Ocaña, es el libro del momento para todo geek, internetero o socialholic que se precie.
Advanced Image Search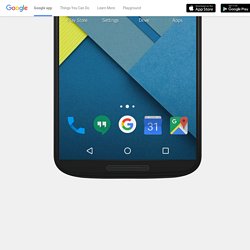 Drag and drop
Advanced Google Image Search
Voice Search · Inside Google Search
SafeSearch: filter objectionable content - Web Search Help
Search Settings
El informe Pisa de este año muestra que en España, 1 de cada 4 alumnos de Secundaria tiene serias dificultades para buscar por internet a pesar de estar familiarizado con las tecnologías. Parace ser que los alumnos buscan información en Google y se quedan con la primera respuesta que encuentran .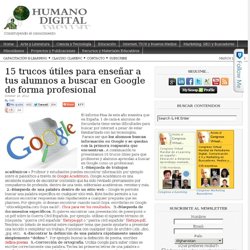 15 trucos útiles para enseñar a tus alumnos a buscar en Google de forma profesional