Google
Search Education – Google. Google. Search Playground · Inside Google Search. Bienvenue dans la section Découverte de la recherche Google.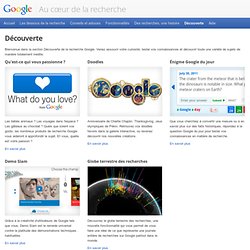 Venez assouvir votre curiosité, tester vos connaissances et découvrir toute une variété de sujets de manière totalement inédite. Qu'est-ce qui vous passionne ? A Google a Day. Advanced Search. Google Shows Reading Levels for Search Results. Google's advanced search page has a new feature that lets you restrict results to a certain reading level.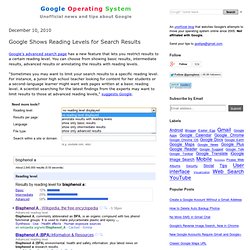 You can choose from showing basic results, intermediate results, advanced results or annotating the results with reading levels. "Sometimes you may want to limit your search results to a specific reading level. Reading level - Web Search Help. You can filter and customize your results by using the options at the top of the results page.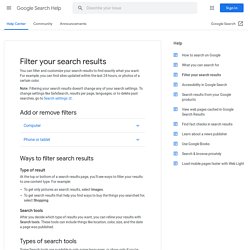 For example, you can choose to just see sites updated within the last 24 hours, or photos of a certain color. Some filtering options are not available in all languages or only show if you're signed in to your Google Account. Change your settings To change settings like SafeSearch, search history, results per page, languages, and location, visit google.com/preferences. Usage rights - Web Search Help. Take advantage of the usage rights filters on the Advanced Search and Advanced Image Search pages to find web content (such as text, videos, or images) you can reuse, share, or modify.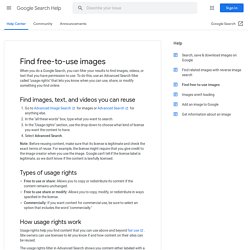 Anyone can browse the Web, but usage rights come into play if you're looking for content that you can take and use above and beyond fair use. Site owners can use licenses to indicate if and how content on their sites can be reused. Features · Inside Google Search. Desnudando a Google Alejandro Suárez Sánchez-Ocaña.
Desnudando a Google, de Alejandro Suárez Sánchez-Ocaña, es el libro del momento para todo geek, internetero o socialholic que se precie.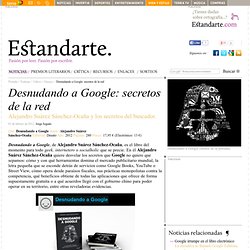 En él Alejandro Suárez Sánchez-Ocaña quiere desvelar los secretos que Google no quiere que sepamos: cómo y con qué herramientas domina el mercado publicitario mundial, la letra pequeña que se esconde detrás de servicios como Google Books, YouTube o Street View, cómo opera desde paraísos fiscales, sus prácticas monopolistas contra la competencia, qué beneficios obtiene de todas las aplicaciones que ofrece de forma supuestamente gratuita o a qué acuerdos llegó con el gobierno chino para poder operar en su territorio, entre otras reveladoras evidencias. Si en Google lo saben todo de ti, ¿no crees que deberías saber algo más sobre ellos? De esta premisa parte Desnudando a Google ¿Durante cuánto tiempo mantiene Google tus datos y qué hace con ellos?
Getmoregoogle2.jpg (JPEG Image, 580 × 5799 pixels) Advanced Image Search. Search by Image · Inside Google Search. Drag & Drop Ziehen Sie ein Bild aus dem Web oder von Ihrem Computer in das Suchfeld auf images.google.com.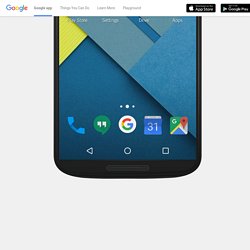 Bild hochladen Klicken Sie unter images.google.com auf das Kamerasymbol und wählen Sie "Bild hochladen" aus. Advanced Google Image Search. Voice Search · Inside Google Search. SafeSearch: filter objectionable content - Web Search Help. Search Settings. For Educators - Web Search. 15 trucos útiles para enseñar a tus alumnos a buscar en Google de forma profesional. El informe Pisa de este año muestra que en España, 1 de cada 4 alumnos de Secundaria tiene serias dificultades para buscar por internet a pesar de estar familiarizado con las tecnologías.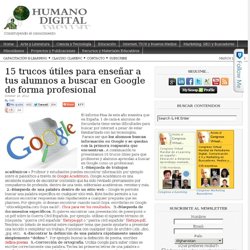 Parace ser que los alumnos buscan información en Google y se quedan con la primera respuesta que encuentran . A continuación te presentamos 15 trucos útiles para que profesores y alumnos aprendan a buscar en Google como un profesional: 1. -Búsqueda de trabajos académicos – Profesor y estudiantes pueden encontrar información por ejemplo sobre el paleolítico a través de Google Académico . Google Académico es una excelente manera de encontrar contenido que ha sido revisado previamente por compañeros de profesión, dentro de una tesis, editoriales académicas, revistas y más. 2.
---