Polls
Didi.austria's Bookmarks on Delicious. Presdo | Blog. Sandy — your free personal email assistant. Survey Software | Vovici. Online Surveys | Zoomerang. Online Umfragen. Unsere Pakete für Ihre Online-Umfrage Online-Umfragesoftwarefür Unternehmen beispielsweise für Online-Umfragen in folgenden Bereichen: - Mitarbeiterbefragung- Kundenbefragung- betriebliche Marktforschung- Webseitenbefragung Firmen-Pakete.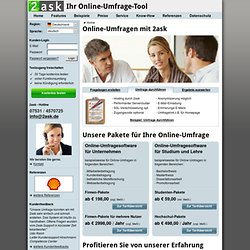 Netigate Online-Befragungen. Survey. From Wikipedia, the free encyclopedia Survey may refer to: Quantitative research[edit]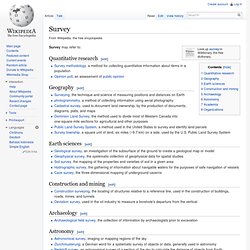 SurveyMonkey.com web surveys. Polldaddy. 37signals. Dimdim. ProgrammableWeb Mashups, APIs. Business-Ready SpikeSource. Black Duck plans to integrate the SpikeSource products and services into its offerings.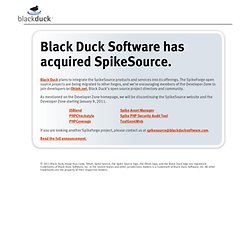 The SpikeForge open source projects are being migrated to other forges, and we're encouraging members of the Developer Zone to join developers on Ohloh.net, Black Duck's open source project directory and community. As mentioned on the Developer Zone homepage, we will be discontinuing the SpikeSource website and the Developer Zone starting January 9, 2011. If you are looking another Spikeforge project, please contact us at spikesource@blackducksoftware.com. Read the full announcement. SurveyMonkey.
---