ENERGIES
Welcome to the Anthropocene. Time-lapse history of human global CO2 emissions. Final-print-Program-for-March-1. Global Carbon Footprint. Einstein VS Tesla. Histoire de l'énergie. Histoire de l'utilisation de l'énergie par les hommes.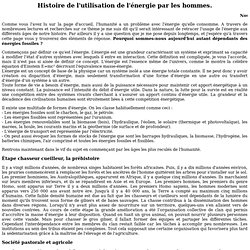 Comme vous l'avez lu sur la page d'accueil, l'humanité a un problème avec l'énergie qu'elle consomme. A travers de nombreuses lectures et recherches sur ce thème je me suis dit qu'il serait intéressant de retracer l'usage de l'énergie aux différents âges de notre histoire. Par ailleurs il y a une question que je me pose depuis longtemps, et j'espère qu'à travers cette page vous y trouverez des éléments de réponse. Pourquoi sommes-nous aujourd'hui autant dépendants des énergies fossiles ? Commençons par définir ce qu'est l'énergie. MIT creates solar cell from grass clippings. A researcher at MIT, Andreas Mershin, has created solar panels from agricultural waste such as cut grass and dead leaves.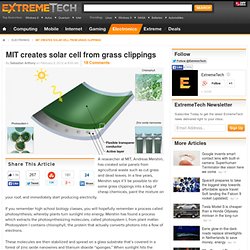 In a few years, Mershin says it'll be possible to stir some grass clippings into a bag of cheap chemicals, paint the mixture on your roof, and immediately start producing electricity. If you remember high school biology classes, you will hopefully remember a process called photosynthesis, whereby plants turn sunlight into energy. Accueil - Mouvement Hydro-Génial Qc.
À classer
ENERGIES FOSSILES. ATOM. ENERGIES RENOUVELABLES. ENERGIES LIBRES.
---