CURATION
Démocratie, liberté et Internet
Pearltrees
Powermarks v3.5 Build 344 - PowerMarks is a bookmark utility that incorporates your bookmarks from Netscape and Internet Explorer into one file and conveniently allows you to export them in ASCII, RTF, and HTML formats
Les PearlTrees sont-ils libres ?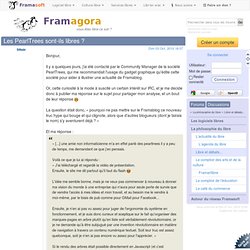 À propos de Pearltrees en lui même, j'ai fait à l'époque quelques commentaires sur RRW sur l'effet "prison du web" qu'il pourrait générer à la Facebook ou à la Google sidewiki avec des commentaires qui sont à l'extérieur du site qui propose lui même une interface de commentaires et donc une interaction. De l'ordre de delicio.us, la finalité de Peartrees est le partage de liens vers des sites entre personnes qui ont pris tel ou tel utilisateur féru de tel sujet. La différence se pose plutôt dans la forme qui reprend l'idée de carte heuristique et qui permet de suivre, non pas la forcément la totalité des marques-pages (pearls) d'une personne, mais aussi un tag ou plus précisément un pearltree. Comme pour tout réseau social, la chose qui fait le contenu, c'est l'utilisateur et même la somme des utilisateurs. En suivant tel pearltree à lui dans tel peartree à moi, on arrive à trouver des interactions sympathiques.
Un article de Wikipédia, l'encyclopédie libre. Identi.ca est une solution libre de réseautage social et de microblogage . Elle est basée sur StatusNet (anciennement Laconica), un logiciel de microblogage basé sur les spécifications OpenMicroBlogging . Fonctionnement [ modifier ] Les utilisateurs peuvent ajouter des textes d'une longueur maximum de 140 caractères sur le principe du microblog , reprenant la longueur exacte imposée sur Twitter . Bien que similaire à Twitter dans le concept et le mode de fonctionnement, Identi.ca fournit de nombreuses fonctionnalités non disponibles sur Twitter, telles que le support du protocole de messagerie XMPP .
Identi.ca Identi.ca is a social service . Users can post short (140 character) status messages which are broadcast to their friends and colleagues on the service and (optionally) onto the Web. You can also broadcast other types of data, like bookmarks, event invitations, polls, and questions. If you'd like to try it out, first register a new account. Then, on the public timeline , enter your message into the textbox at the top of the page, and click "Send". It will go out on the public timeline and to anyone who is subscribed to your notices.
Help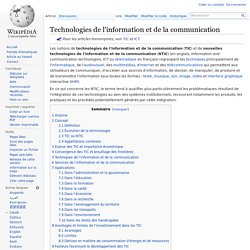 Un article de Wikipédia, l'encyclopédie libre. Pour les articles homonymes, voir TIC et ICT . Les notions de technologies de l'information et de la communication ( TIC ) et de nouvelles technologies de l'information et de la communication ( NTIC ) (en anglais, Information and communication technologies , ICT) regroupent les techniques utilisées dans le traitement et la transmission des informations, principalement de l' informatique , de l' Internet et des télécommunications . En ce qui concerne les NTIC , le terme tend à qualifier plus particulièrement les problématiques résultantes de l'intégration de ces technologies au sein des systèmes institutionnels, recouvrant notamment les produits, les pratiques et les procédés potentiellement générés par cette intégration. Histoire [ modifier ]
Patrice Lamothe, CEO de Pearltrees on Vimeo-Namoroka