Lean startup tools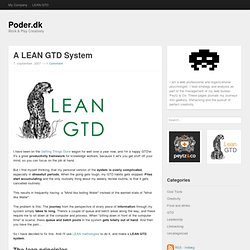 I have been on the Getting Things Done wagon for well over a year now, and I'm a happy GTD'er. It's a great productivity framework for knowledge workers, because it let's you get stuff off your mind, so you can focus on the job at hand. But I find myself thinking, that my personal version of the system is overly complicated, especially in stressfull periods. When the going gets tough, my GTD habits gets skipped. Piles start accumulating and the only routinely thing about my weekly review routine, is that it gets cancelled routinely.
A LEAN GTD System - Poder.dk : Poder.dk
What happens when technology cycles become shorter than corporate decision cycles? That's the question I posed in an earlier post about Facebook's acquisition of Instagram Saul Kaplan takes it even further in his new book The Business Model Innovation Factory , when he points out that the concept doesn't just apply to technology, but business models as well.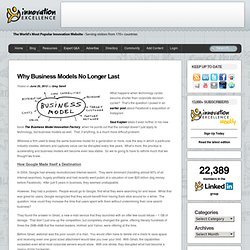 Why Business Models No Longer Last
canvas.png (PNG Image, 900 × 674 pixels) - Scaled (86%)
Private group chat and IM, business and team collaboration - HipChat
Vanity — Welcome to Vanity
Introducing rollout: Condionally roll out features with redis | James on Software
Aug 01, 2010 When we work on new features, we like to push them to production regularly. We've found that long-lived branches tend to introduce more defects than short-lived ones. And as useful as staging can be, it's hard to beat seeing and tweaking new features on the real, production site and infrastructure. When we're ready to alpha the feature, we'll roll it out to staff. For beta, we might roll it out to some specific friends or people who request access.
main
Agile development is a value system — not a process.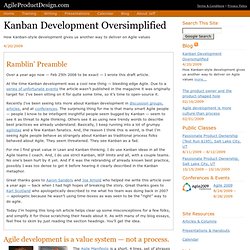 Kanban development oversimplified: a simple explanation of how Kanban adds to the ever-growing Agile toolkit
Kanban is a lean approach to agile software development. ­­Actually, Kanban means many things. Literally, Kanban is a Japanese word that means "visual card". At Toyota, Kanban is the term used for the visual & physical signaling system that ties together the whole Lean Production system.
Lean/Kanban - Crisp AB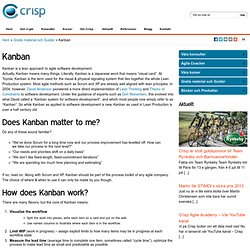 Indexes | Fiksu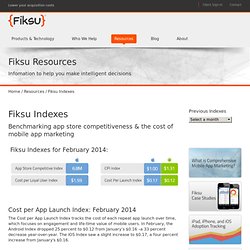 Benchmarking app store competitiveness & the cost of mobile app marketing App Store Competitive Index November 2013 The App Store Competitive Index tracks the aggregate volume of downloads per day achieved by the top 200 ranked free iPhone apps in the U.S. In November, the Index increased by two percent to 5.7 million daily downloads from October's 5.6 million.
Metricfire - A One-Stop Shop for Application Metrics