Youtube
neoParadise - Durch die Nacht Teil 1 (26.01.) - ZDFneo
Lance Butters Mix (Mit Featuren!)
[kompl.] Georg Schramm @ Occupy Frankfurt 12.11.2011
Shaban vs Fard Rap Battle
Best Of Dubstep September 2011
Hallo Musik (2 LP + CD) [Vinyl LP]: Prinz Pi: Amazon.de: Musik
Yabancı dizi izle, yabancı dizi, dizi izle, hd dizi izle, ydi, 720p izle, tek part izle
Ashton on defensive over EU's diplomatic service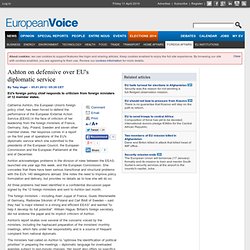 EU's foreign policy chief responds to criticism from foreign ministers of 12 member states. Catherine Ashton, the European Union's foreign policy chief, has been forced to defend the performance of the European External Action Service (EEAS) in the face of criticism of her leadership from the foreign ministers of France, Germany, Italy, Poland, Sweden and seven other member states. Her response comes in a report on the first year of operations of the EU's diplomatic service which she submitted to the presidents of the European Council, the European Commission and the European Parliament at the end of December. Ashton acknowledges problems in the division of roles between the EEAS, launched one year ago this week, and the European Commission. She concedes that there have been serious transitional and structural problems with the EU's 140 delegations abroad.
The former dictator's son and most high-profile of Col Gaddafi's children, was captured two weeks ago. The 39-year-old former playboy is currently awaiting a trial in Libya that could end in the death penalty, while the International Criminal Court has indicted him for crimes against humanity. Other documents seen by the Daily Telegraph show the lengths some academics at the LSE went to ensure that Mr Gaddafi was given a place at the university. Shortly before the despot's son was admitted, the then Centennial Professor Ed McClennan wrote to one of Mr Gaddafi's aides. Professor McClennan told Mr Gaddafi that "presumably you do reasonably well" in the first year, he could then apply to the PhD course. The professor also said he could "tailor your first year here in a manner that is much more responsive to your interests".
Gaddafi's son paid LSE tutor £4,000 per month for help with his homework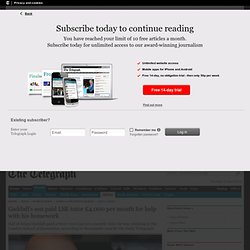 MIDEAST - League owns flaw, asks UN for help
The Arab League admits 'mistakes' in its Syria monitoring mission and calls for help from the UN, declaring it won't step down from its mission Arab League monitors walk through the Al-Sabil area of Daraa, Syria, in this photo. Officials says monitors will stay in Syria despite criticism from Qatar's prime minister that they had made 'mistakes' as Syria released more than 500 prisoners. AP photo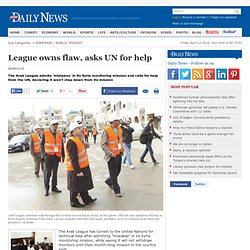 [Poetry Slam Ulm] Patrick Salmen: Euphorie, Euphorie
Fard - Invictus - 12. - Rock'n'Roll
medium.m4v
Sido feat. B-Tight - Wir haben noch Zeit
Arbeiterlieder Archiv - Texte, Noten, Akkorde, Tabs, MP3 / Tonaufnahmen uvm.
Study Music by Antonio Lucio Vivaldi, Father Sky and Mother Earth.wmv
Prinz Pi - Königin von Kreuzberg Live
Hallo Musik (2 LP + CD) [Vinyl LP]: Prinz Pi: Amazon.de: Musik
El General - Contre-Attaque
Nez - Her sey bos
Lenny Kravitz - American Woman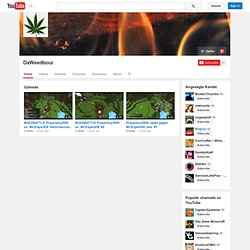 Kanal von glongobobtubbie
Welcome to YouTube! The location filter shows you popular videos from the selected country or region on lists like Most Viewed and in search results.To change your location filter, please use the links in the footer at the bottom of the page. Click "OK" to accept this setting, or click "Cancel" to set your location filter to "Worldwide".
Prinz Pi - Der neue iGod Live
(Die letzte Vorlesung) Last Lecture by Randy Pausch Sept 2007
04 - DNP - Was würde Lemmy tun (feat. Casper) [HQ] [320kbps]
NEZ - Sakin ha
J.J. Cale - Cocaine
Poetry Slam Meisterschaft 2011 "Begrüßung" 01/45
"Bei Nacht II" - Kartell feat. Ayatola [OFFICIAL HD VIDEO]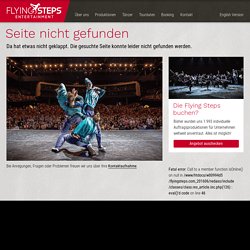 Bach und Breakdance passen nicht zusammen? Das Gegenteil beweisen die vierfachen Breakdance-Weltmeister Flying Steps und Opernregisseur Christoph Hagel mit ihrer faszinierenden Performance Red Bull Flying Bach. Nach der umjubelten Uraufführung in der Neuen Nationalgalerie Berlin im April 2010, dem ECHO Klassik Sonderpreis 2010 und der ausverkauften Europatour 2011 geht die Show der Extraklasse jetzt auf Welttournee. Dabei stellen sie die internationale Klassikwelt auf den Kopf und sprengen mit ihrer Übersetzung von Bachs "Wohltemperierten Klavier" die Grenzen zwischen Hoch- und Jugendkultur.
Red Bull Flying Bach - Flying Steps