History Resources
Rhapsodies in Black
The Long and Winding Road to a PhD July 12th, 2013 For students aspiring toward careers as experts in their fields, earning a Ph.D. seems like the perfect option. Although lengthier than just earning an undergraduate degree, doctoral degree programs can open the door to high-level management and consulting careers, research opportunities, and tenured… Dollars for Doctors: A Guide to Crowdfunding Academic Research May 8th, 2013 Table of Contents The State of Crowdfunding Today Sampling Some Successful Campaigns Where to Go Picking the Best Platform Things to Remember Perpetual conversations mourning the ever-tightening budgets of academic institutions sometimes seem like an apocalyptic harbinger for research.… The Ultimate Guide to Dissertations April 22nd, 2013 There comes a time in every young (and not-so-young) doctoral candidate's life when they must begin battling the ever-looming final boss of their degree plans — The Dissertation.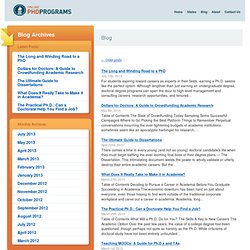 2010 Top Art History Blog Award | Winners
DaDa Online - Your source of information on European DaDaism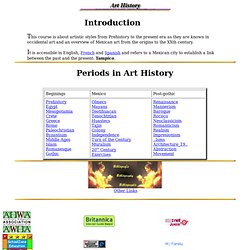 This project was born in 1991, when prof. John Grozik at SLIS, University of Wisconsin, Milwaukee, taught the group of ITESM librarians how to use Hypercard. At that time, however, conditions weren't favorable on this campus of ITESM. Things changed in summer 95 when the campus Web was created. The team includes principally : Roxana Farias (photos, translation into English), Jesus Dorantes Rivera , Carlos Luengas, Eugenio Puente (programming, interface), Elvia Barron (french translation and edition), Anne Souchaud de Luengas (design, text, search for and selection of images); It includes also, students and colleagues who gave their time and talent to edit, verify, search, maps and programming: Alejandro Ramírez, Jorge Villanueva, Serafin Tella, Manuel Bermúdez.... and those who lent their images from such far away places as Australia, Greece, New Zeland...The project has become international. Thanks to all:
Art History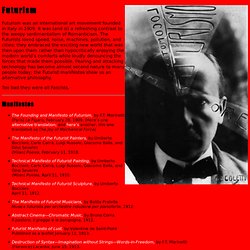 Futurism was an international art movement founded in Italy in 1909. It was (and is) a refreshing contrast to the weepy sentimentalism of Romanticism. The Futurists loved speed, noise, machines, pollution, and cities; they embraced the exciting new world that was then upon them rather than hypocritically enjoying the modern world's comforts while loudly denouncing the forces that made them possible. Fearing and attacking technology has become almost second nature to many people today; the Futurist manifestos show us an alternative philosophy. Too bad they were all Fascists.
An Exhibition at theHugh M. Morris Library University of Delaware Library Newark, Delaware August 27 - December 19, 1996
Color Printing: Introduction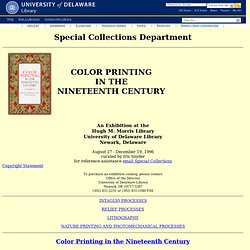 Founders Of The Arts & Crafts Movement
Modern Art, Artists, Topics
History of Art - ART THROUGH THE AGES
Icons (from the Greek eikones) are sacred images representing the saints, Christ, and the Virgin, as well as narrative scenes such as Christ's Crucifixion. While today the term is most closely associated with wooden panel painting, in Byzantium icons could be crafted in all media, including marble, ivory, ceramic, gemstone, precious metal, enamel, textile, fresco, and mosaic. Icons ranged in size from the miniature to the monumental. Some were suspended around the neck as pendants,... More »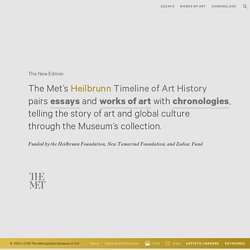 Are you an art historian, archaeologist or conservator? Look at a Trello Board of most needed content and "claim" an essay to write! If something important is missing, let us know. Contact us to be added to the Trello Board: beth[at }khanacademy.org or steven[at ]khanacademy.org. We anticipate more than two million visitors from around the globe for the fall 2013 semester.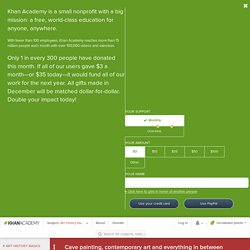 Art and Art History Resources