Eines Web 2.0 CAU
Guia d'estil/Guia 2010 - Wiki de Softcatalà. Hi ha una versió d'aquesta guia d'estil en una sola pàgina per a facilitar-ne la impressió.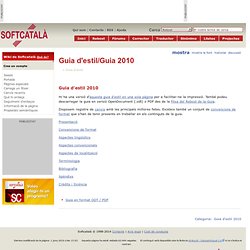 També podeu descarregar la guia en versió OpenDocument (.odt) o PDF des de la fitxa del Rebost de la Guia. Disposem registre de canvis amb les principals millores fetes. Existeix també un conjunt de convencions de format que s'han de tenir presents en treballar en els continguts de la guia. Presentació Convencions de format. Recull de termes de Softcatalà. Versió del Recull: 4.2 Darrera actualització: 12/12/2010 Introducció Aquest recull de termes informàtics en anglès, amb la seva corresponent traducció al català, és elaborat i actualitzat de manera continuada per Softcatalà.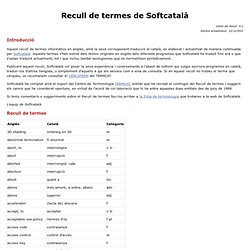 XRCE Aesthetic Quality based Image Search. Content by no means says it all, especially when you're looking for a image.
For instance, when searching for a photograph of a beach , you don't just want any old standard shot. You want a nice beach with lots of colors, a good composition and perfect exposure. In this demo, we use our automatic image categorizer to first understand the content of the image (no text tags required or used!) Online Diagram Examples, made with Creately.
---