Artistes
Los pupilos de Helmut Newton desnudan al maestro
Helmut Newton cambió la forma de mirar a la mujer y de fotografiar la moda. Su impronta ha marcado la apariencia de las revistas y la carrera de muchos fotógrafos. Pero aunque algunos reconozcan la influencia del controvertido artista alemán en su propio trabajo, solo tres personas pueden presumir de haber tenido a Newton tenido como mentor.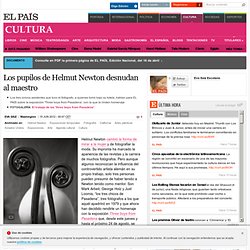 Henri Cartier Bresson y el instante decisivo « Punto Caótico | Revista on-line cultural
Last Ads Friday adult super hotel room ballroomparty & room afterparties->. White-colored dating Chickasaw Singles courting sugar daddy Sea Placid Single guardian dating advice Edinburgh Individual relationships Junction AR.. re what time.. asian searching. Contact Member Some holiday organization. Enthralling, white, young guy on the lookout for Masculine Guy x'x, enormous balls, x. x chop, and tight tiny hole to fuck.. need pics ready. transmit pic in initially message or hardly any response.. up just for ANYTHING..
Rita Zimmermann photography and art studio
Deslumbrante acervo fotográfico y escritural de Juan Rulfo
Niña corriendo en un portal de Jalisco, 1961, tomada del libro 100 fotografías de Juan Rulfo Ancianas en la calle, Cardonal, 1959, tomada del libro 100 fotografías de Juan Rulfo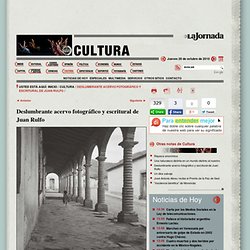 EXPOSICIONES
Grandes fotógrafas clásicas, Dorotea Lange : Caborian. Comunidad de fotografía. Foros, tutoriales, noticias, concursos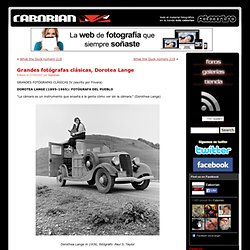 GRANDES FOTÓGRAFAS CLÁSICAS IV (escrito por Frivera) "La cámara es un instrumento que enseña a la gente cómo ver sin la cámara." (Dorothea Lange)
Fotografía inusual por Chema Madoz « deSIGNALS
¿Qué es una fotografía? Hay quien la ve como una gota de mercurio, un sueño claro y límpido; para otros puede ser un mensaje del subconsciente, un garabato que será descifrado no se sabe cuándo ... dentro de muchos años, quizá.
Eva Rubinstein: una oferta, una coartada, un saludo...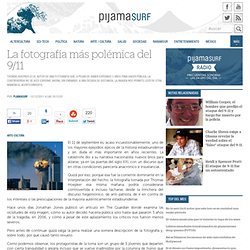 La fotografía más polémica del 9/11
El 11 de septiembre es, acaso incuestionablemente, uno de los mayores episodios épicos de la historia estadounidense y sin duda el más importante en años recientes. La catástrofe dio a su narrativa nacionalista nuevos bríos para alzarse, ya en las puertas del siglo XXI, con un discurso que en otras condiciones parecería anacrónico e insustancial.
lahabitaciondemarilyn.blogspot.com
CHIM: The Photographs of David Seymour
Interactives | Exhibitions | 1997 | Cindy Sherman | Selected Works
Daguerreotypes: un álbum de Flickr
Man Ray phototheque officielle
Man Ray phototheque officielle
Portfolio Slideshow
GULNARA SAMOILOVA DOCUMENTARY PHOTOGRAPHER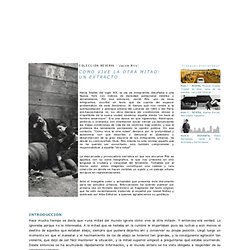 008 - Colección Reserva - Jacob Riis, "Como vive la otra mitad: un extracto"
Hace mucho tiempo se decía que «una mitad del mundo ignora cómo vive la otra mitad».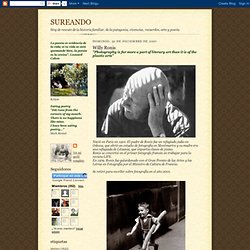 "Photography is far more a part of literary art than it is of the plastic arts" Nació en Paris en 1910.
Willy Ronis
Robert Fulton landscape photographer of the year 2011,LPOTY 2011 Robert Fulton,Robert Fulton landscape photographer
Índice alfabético de Fotógrafos en la red
Enric Satue - Disseny Gràfic