Other
Free Monthly Calendar or Planner Printable Online. Generate a free, monthly calendar in printable PDF format using the form below.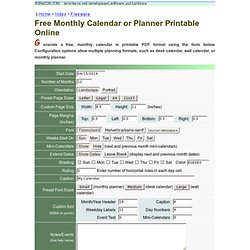 Configuration options allow multiple planning formats, such as desk calendar, wall calendar, or monthly planner. Enter a start date for the calendar and then the number of months (up to 60) that you want to print. Then click the "Generate Calendar" button to view the monthly calendar online. Docs - Online Document Management, Online File Storage, Internet File Sharing, Online Storage, Store and share files, file sharing, Workspaces, share documents.
Cost-Effective You don't have to install or maintain hardware and software and reasonably priced subscription plans lead to more cost savings.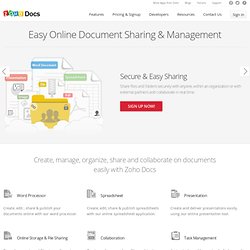 Anytime Anywhere Access Being a web-based document management solution you can take all your documents with you wherever you go with access to them anytime, anywhere. Reduced IT burden Scalability, security, reliability or software upgrades, we have them all covered, so you can focus on enhancing business productivity. Enhanced business continuity Storing your files online keeps all your valuable data safe from various threats and calamities and ensures the normal functioning of your business is not affected. Increased productivity Save valuable productive time by finding and accessing files with the click of a button. Complete Control Decide on who has access to what documents and set permissions to decide on what functions they can carry out. Google Apps for Business: 10 Powerful Add-Ons CIO. CloudLock for Google (GOOG) Apps is a data protection app that tracks the lifecycle of Google Docs.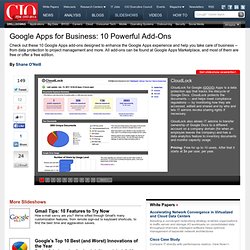 CloudLock protects the documents — and helps meet compliance regulations — by monitoring how they are accessed, edited and shared and by who and lets IT admins revoke sharing rights if necessary. CloudLock also allows IT admins to transfer ownership of Google Docs to a different account on a company domain (for when an employee leaves the company) and has a data analytics feature to inventory documents and monitor capacity usage. Pricing: Free for up to 10 users. After that it starts at $4 per user, per year. 21 Chrome Web Apps for Serious Work CIO. The Chrome browser is rapidly gaining fans and developers are responding by creating apps that will help keep you productive in Google's (GOOG) browser.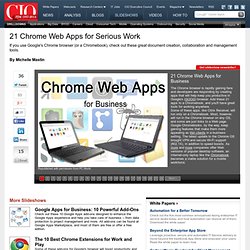 Add these 21 apps to a Chromebook, and you'll have great tools for working anywhere. Some of these apps, like Citrix Receiver, will run only on a Chromebook. Most, however, will run in the Chrome browser on any OS, and some are just links to a Web page. Google Chromebooks, by the way, keep gaining features that make them more appealing as thin clients in a business setting. Google Apps for Business: 10 Powerful Add-Ons CIO. Google Apps for Business: 10 Powerful Add-Ons CIO. 21 Chrome Web Apps for Serious Work CIO. Google Apps for Business: 10 Powerful Add-Ons CIO. Downloading Dropbox. The Dropbox daemon works fine on all 32-bit and 64-bit Linux servers.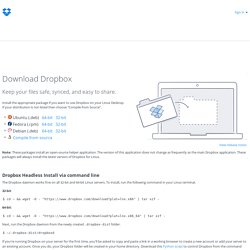 To install, run the following command in your Linux terminal. 32-bit: cd ~ && wget -O - " | tar xzf - 64-bit: Learn More. Sign up for your free trial and unleash the power of CRM Analyze market trends.
Redefine sales performance. Create customer loyalty. Disable USB Access - USB Port Blocker - Block USB Ports. USB Port Blocker is a USB Port Blocking Software Tool created by Al Emran Tareq.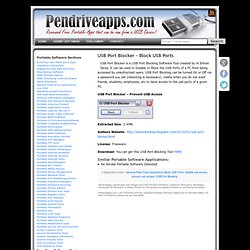 It can be used to Disable or Block the USB Ports of a PC from being accessed by unauthorized users. USB Port Blocking can be turned On or Off via a password you set (rebooting is necessary). No lists found. Your Second Phone.
---