Survey Instruments
Online Survey Software | Enterprise Feedback Management | Customer Satisfaction | Qualtrics.com. SurveyMonkey: Free online survey software & questionnaire tool. Online Survey Software Tool - Create Free Online Surveys - Zoomerang. SurveyGizmo - Online Survey Software : An online survey tool for creating surveys, quizzes, polls and forms. A Few Good Online Survey Tools. Online surveys can be a huge help in understanding what your constituents think and how successful your programs are, without breaking your budget.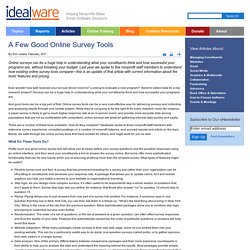 Last year we spoke to five nonprofit staff members to understand how existing online survey tools compare—this is an update of that article with current information about the tools' features and pricing. Ever wonder how well received your annual dinner event is? How/where to build your online study. From PsychWiki - A Collaborative Psychology Wiki Got a tool which has helped you do your research more effectively.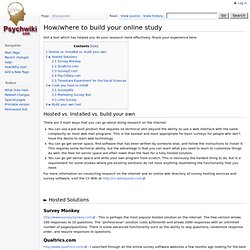 Share your experience here. Hosted vs. Online Survey Software Tool, Surveys, Tools | Key Survey WorldAPP. Survey Software - Online Survey Software - Customer Satisfaction Surveys - Employee Survey - Web Survey Software. Www.engr.psu.edu/awe/misc/ResearchPagePDFs/126-Marra-CriticalSurvey.pdf.
---