Edmonton Public School Board (EPSB) Online Media
Jasper Place High School. EPSB News (@EPSBNews) sur Twitter. Sean lessard (@nametoplace) sur Twitter. Matthew Oosterhuis (@MattyandGem) sur Twitter. Paul Letourneau (@PaulLetourneau) sur Twitter. Jeremyfritsche (@jeremyfritsche) sur Twitter. Edmonton Public Schools. My Alberta School. Edmonton Public Schools. Coordinates: Edmonton Public Schools is the largest public school district in Edmonton, Alberta, Canada and the sixth largest school district in Canada.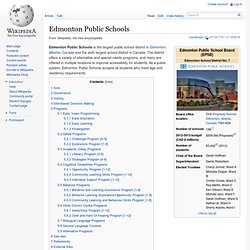 The district offers a variety of alternative and special needs programs, and many are offered in multiple locations to improve accessibility for students. As a public system, Edmonton Public Schools accepts all students who meet age and residency requirements. Chaîne de edpublicschools. Open House at Edmonton Public Schools Play During open house season, we invite parents and students to come in and discover what makes our schools unique!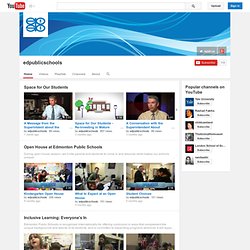 In these videos, we'll take you on a tour of school open house events to see how attending an open house can help you make decisions about choosing a school. We explore the school environment, capture some of the exciting activities taking place and talk to school staff.
---