Inspiration
Music Video Awesomeness. - Musictonic. Ellie Goulding - Lights (Bassnectar Remix) by Bassnectar with APEXvj. Im Yours / Somewhere Over The Rainbow - Audio Detail - SNCMusic.com. Words that speak to the soul.
60 Ways To Make Life Simple Again. Email When we were young life was easier, right?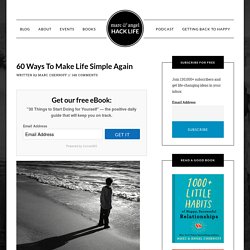 I know sometimes it seems that way. But the truth is life still is easy. It always will be. Quote-mary-ruggle.jpg from enlightenyourday.com. The Eight Irresistible Principles of Fun. Aa0518b21b29e6fd15b442ba33f084b9e465cf83.jpeg from yimg.com.
---