Computer Learning
17 Reasons Why Your Mac Runs Slower Than it Should | ChrisWrites.com. How to Crack a Wi-Fi Network. | Arrow Webzine. 1.Back Track Today we're going to run down, step-by-step, how to crack a Wi-Fi network with WEP security turned on.
Dozens of tutorials on how to crack WEP are already all over the internet using this method. Seriously—Google it.
Email
The Internet Marketing Handbook. New to SEO?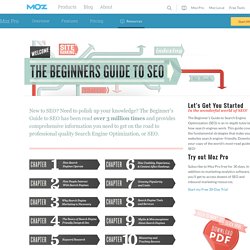 Need to polish up your knowledge? The Beginner's Guide to SEO has been read over 1 million times and provides comprehensive information you need to get on the road to professional quality SEO. User-Friendly SEO. Some web designers (and many web content writers) view on-page SEO as a necessary evil to an effective content strategy on the web.
However, when properly executed, SEO can actually enhance a site visitor's experience, rather than detract from it. In this article, I'll run through several examples of how SEO can be improved with the user in mind. Reviewing these examples should help site builders gain a solid understanding of SEO practices that work together to create highly effective sites. Unbeatable JavaScript Tools. Yet Another Colorization Tutorial. Ivana Jurčić – Lilit » Blog Archive » A Collection of Printable Sketch Templates and Sketch Books for Wireframing.
At the beginning of a web (or application) development project I always create the sketches first.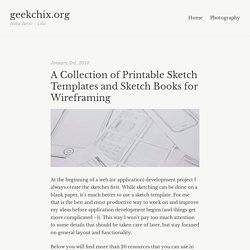 While sketching can be done on a blank paper, it's much better to use a sketch template. For me that is the best and most productive way to work on and improve my ideas before application development begins (and things get more complicated :-)). This way I won't pay too much attention to some details that should be taken care of later, but stay focused on general layout and functionality. Below you will find more than 20 resources that you can use in sketching phase of application development. If you have some additional resources to share, please leave a comment so I can add them to the list.
CSS3 Menu. Free CSS Menu Maker. Paper cd case. 30 Useful (and Unknown) Web Apps You Need to Bookmark - Page 2. FillAnyPDF FillAnyPDF is a fairly simple web app which allows you to upload a PDF file, then easily write on it wherever you want.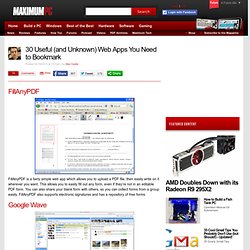 This allows you to easily fill out any form, even if they're not in an editable PDF form. You can also share your blank form with others, so you can collect forms from a group easily. FillAnyPDF also supports electronic signatures and has a repository of free forms. Create a Website Guide… DIY Website Promotion | How to Create and Submit Websites to Search Engines like Google | Free Site Submission | Website Ranking | Do It Yourself. Web Design. Hot Scripts - The net's largest PHP, CGI, Perl, JavaScript and ASP script collection and resource web portal. Web Form Factory (v0.1.3 beta) - Open Source Web Form Generator. CSS3.0 Maker | CSS3.0 Generator | CSS 3.0 Generator | css3 generator.
---