Potatoes
Loaded Mashed Potato Bake Recipe for a Crowd. First, I should apologize, these photos are terrible.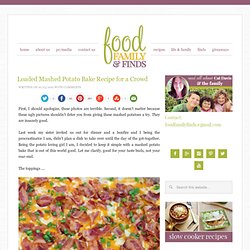 Second, it doesn't matter because these ugly pictures shouldn't deter you from giving these mashed potatoes a try. They are insanely good. Last week my sister invited us out for dinner and a bonfire and I being the procrastinator I am, didn't plan a dish to take over until the day of the get-together. Being the potato loving girl I am, I decided to keep it simple with a mashed potato bake that is out of this world good. Let me clarify, good for your taste buds, not your rear-end. Twice Baked Potatoes, Two Ways. Hiiii Abby!!!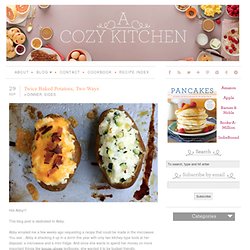 This blog post is dedicated to Abby. Abby emailed me a few weeks ago requesting a recipe that could be made in the microwave. Homemade Crispy Potato Tots (Tater Tots) Homemade Crispy Potato Tots (Tater Tots) I went to a Sonic Drive In for the first time a few weeks ago and was surprised to see that they served tater tots.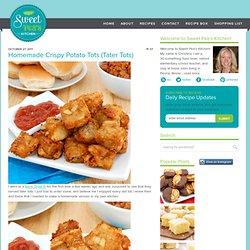 I just had to order some, and believe me I enjoyed every last tot. I knew then and there that I needed to make a homemade version in my own kitchen. Parmesan Roasted Potatoes. Ok fine.
I'm officially ready to make the transition to fall. And I thought, what better way to do it than with my all time favorite Parmesan Roasted Potatoes! These are like candy. 100% addictive. Once you stop, you just can't stop. French Fries: The No-Guilt Version. There's nothing like a french fried potato.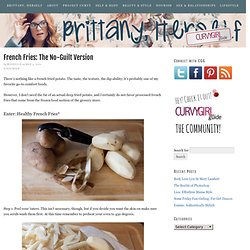 The taste, the texture, the dip-ability; it's probably one of my favorite go-to comfort foods. However, I don't need the fat of an actual deep fried potato, and I certainly do not favor processed french fries that come from the frozen food section of the grocery store. Enter: Healthy French Fries* Step 1: Peel your 'taters. Hash-brown casserole | The Wanna be Country Girl. This hash-brown casserole is the perfect side dish.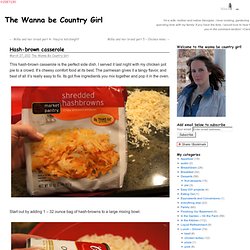 I served it last night with my chicken pot pie to a crowd. It's cheesy comfort food at its best. The parmesan gives it a tangy flavor, and best of all it's really easy to fix. Its got five ingredients you mix together and pop it in the oven. Start out by adding 1 – 32 ounce bag of hash-browns to a large mixing bowl.
---