Museums
On Nature. On Nature Travel Does Instituto Inhotim, a 240-hectare art park and botanical garden in south-east Brazil, represent a new kind of institutional operation?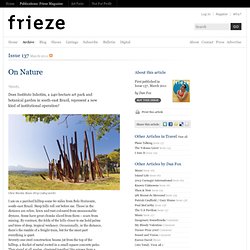 TerrorHaza.hu. The Metropolitan Museum of Art, New York: metmuseum.org. The Getty. Home. Home | Southbank Centre. Palazzo Grassi. Musée d'Art Moderne - Paris.fr. Tate Modern: International modern and contemporary art. The Museum of Modern Art. Palais de Tokyo. Where dreams come true | The Art Newspaper. Collectors Brazil Deep in the Brazilian jungle, Inhotim's founder Bernardo Paz offers artists a place to realise their most ambitious projects By Cristina Ruiz.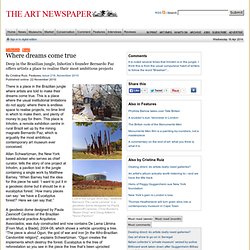 Features, Issue 218, November 2010Published online: 22 November 2010 Lost in the jungle (from top): Matthew Barney's "De Lama Lamina" in a geodesic dome designed by Paula Zasnicoff Cardoso, Chris Burden's "Beam Drop" and Doug Aitken's "Sonic Pavilion" There is a place in the Brazilian jungle where artists are told to make their dreams come true. Inhotim. A "subversive Disneyland" at the end of the world | The Art Newspaper. Collectors Australia The gambling millionaire David Walsh is opening a museum in Tasmania that will be unlike anything you've ever seen before By Cristina Ruiz.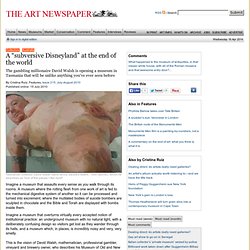 Features, Issue 215, July-August 2010Published online: 15 July 2010 Tasmanian collector David Walsh owns Jenny Saville's Matrix, 1999 (above), which he describes as "one of the pieces I like most" Museum of Old and New Art.
---