Desserts
Now you're cooking with comics. The decorated cookie: Christmas! a cookie pop Christmas tree forest for Celebrations. Cupcake Christmas Tree | teaspoon. My brother threw a holiday potluck for a bunch of friends and on the invite he presumptuously assigned me to dessert, pending I could attend of course.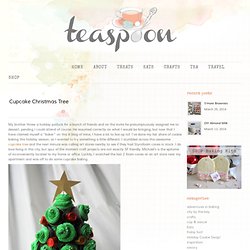 He assumed correctly on what I would be bringing, but now that I have claimed myself a "baker" on this lil blog of mine, I have a lot to live up to! I've done my fair share of cookie baking this holiday season, so I wanted to try something a little different. I stumbled across this awesome cupcake tree and the next minute was calling art stores nearby to see if they had Styrofoam cones in stock. I do love living in this city, but spur of the moment craft projects are not exactly SF friendly. Michael's is the epitome of inconveniently located to my home or office. A tiny gingerbread house that perches on the edge of your mug. I made tiny gingerbread houses that are meant to be perched on the edge of a mug of hot chocolate.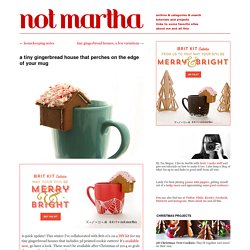 I had been thinking about those sugar cubes that hook on the rim of a teacup earlier this month, and I was also thinking about 3-D cookies and how they fit together and figured it would be pretty neat to make cookies that hang on the edge of a mug. I thought I was being so brilliant but it only took a few seconds to discover that a flat cookie on the edge of a mug has already been done. So I started wondering what else I could do. Inside Out Chocolate Caramel Apples make great teacher's gifts. You've eaten apples, right?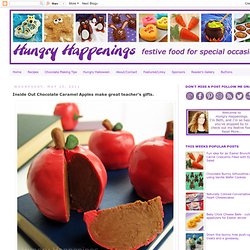 You've probably even eaten an apple covered in rich and creamy caramel. If you are lucky, you've enjoyed a chocolate covered caramel apple. But, I am positive you've never had an inside out chocolate caramel apple, but you really should try one! The idea for this recipe came to me in stages. Last week as I was making the little modeling chocolate apple that I used to decorate one of my chocolate chalkboards, I made a full size apple thinking it would also make a great teacher's gift. Chocolate Truffles Recipe : Alton Brown. Directions Place the 10 ounces of chocolate and butter in a medium size glass mixing bowl.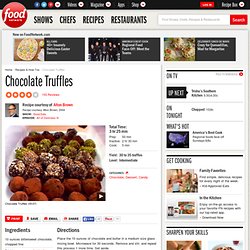 Microwave for 30 seconds. Red Velvet Whoopie pies. Jar of Happiness for my Birthday. Tuesday is my thirty-something birthday and I wanted to make something fun for myself.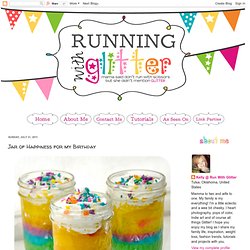 A little happiness in a jar for my happy day please! These are great because I know that in no way during the week could I make a cake for myself. Delicious and QUICK Holiday Treat….Yum! I was browsing around online, looking for Christmas treat ideas.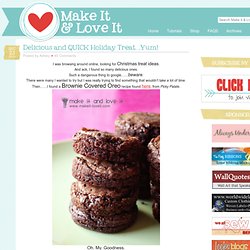 And ack, I found so many delicious ones. Such a dangerous thing to google……beware. Raspberry Cheesecake Recipe : Ina Garten. Directions Preheat the oven to 350 degrees F.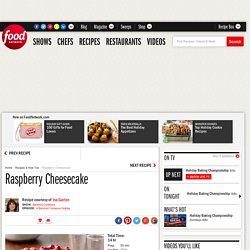 To make the crust, combine the graham crackers, sugar, and melted butter until moistened. Pour into a 9-inch springform pan. Make-a-Cake Series: Cranberry Cake with Warm Vanilla Butter Sauce. Thanksgiving is coming.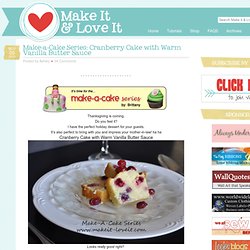 Do you feel it? I have the perfect holiday dessert for your guests. Peanut Butter Chocolate Dessert Recipe.
---