Des scientifiques et leurs études LA VILLE
Landscape Urbanism | a site for landscape + design + cities. Architecture, urbanism, design and behaviour: a brief review | Design with Intent. By Dan Lockton Continuing the meta-auto-behaviour-change effort started here, I'm publishing a few extracts from my PhD thesis as I write it up (mostly from the literature review, and before any rigorous editing) as blog posts over the next few months.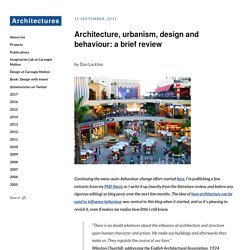 The idea of how architecture can be used to influence behaviour was central to this blog when it started, and so it's pleasing to revisit it, even if makes me realise how little I still know. "There is no doubt whatever about the influence of architecture and structure upon human character and action. We make our buildings and afterwards they make us. They regulate the course of our lives."Winston Churchill, addressing the English Architectural Association, 1924.
Les reconstructions de 1945 : une doctrine européenne. Les reconstructions représentent un moment paradoxal dans l'histoire des villes – et des urbanistes.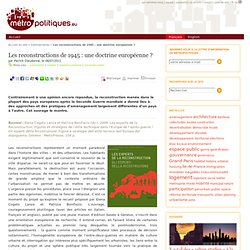 Les habitants exigent légitimement que soit conservé le souvenir de la ville disparue, ne serait-ce que pour en favoriser le deuil. Mais parallèlement, la destruction est aussi l'occasion, certes monstrueuse, de mener à bien des transformations de grande ampleur que le contexte ordinaire de l'urbanisation ne permet pas de mettre en œuvre. Repenser l'étalement urbain au-delà du fatalisme. Urbanisme Étalements Urbains.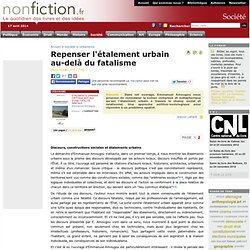 Critique sociale d'une fatalité spatiale Éditeur : L'Harmattan. Délinquance, justice et autres questions de société-Mozilla Firefox.