PS Tutorials
The Magic of Photoshop's Content Aware Tools (And Practical Examples of How to Use It)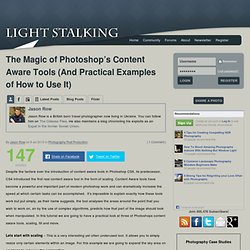 Despite the fanfare over the introduction of content aware tools in Photoshop CS5, its predecessor, CS4 introduced the first real content aware tool in the form of scaling. Content Aware tools have become a powerful and important part of modern photoshop work and can dramatically increase the speed at which certain tasks can be accomplished. It's impossible to explain exactly how these tools work but put simply, as their name suggests, the tool analyses the areas around the point that you wish to work on, an by the use of complex algorithms, predicts how that part of the image should look when manipulated.
How to Use Drop Shadows in Photoshop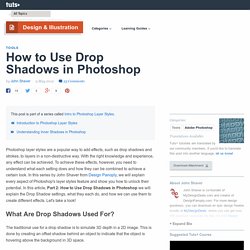 Photoshop layer styles are a popular way to add effects, such as drop shadows and strokes, to layers in a non-destructive way. With the right knowledge and experience, any effect can be achieved. To achieve these effects, however, you need to understand what each setting does and how they can be combined to achieve a certain look. In this series by John Shaver from Design Panoply, we will explain every aspect of Photoshop's layer styles feature and show you how to unlock their potential. In this article, Part 2: How to Use Drop Shadows in Photoshop we will explain the Drop Shadow settings, what they each do, and how we can use them to create different effects.
A Guide to Guides (Part 1)
How to Apply the Satin Setting to Layer Style Effects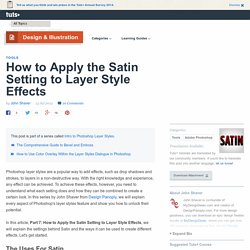 Photoshop layer styles are a popular way to add effects, such as drop shadows and strokes, to layers in a non-destructive way.
I mention a number of shortcuts that are new to the Spot Removal Tool (B) in this video (Adobe Photoshop: Favorite Features for Photographers), but thought that it might be handy to also include them in list form: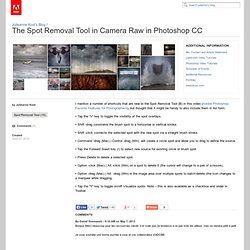 The Spot Removal Tool in Camera Raw in Photoshop CC « Julieanne Kost's Blog
#CreativeFriday – Adding a Mask to a Locked Background Layer
#CreativeFriday – Content Aware Scale
I'd like to rejuvenate a feature that made it's debut in Photoshop CS4. Content Aware Scale was Adobe's intro into the work of Content Aware Technology and it is still a great feature. Content Aware Scale is designed to support the re-size of an image whilst protecting important parts of it from the re-size operation.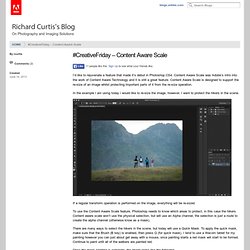 Growing up in New Jersey, photographer Ben Canales didn't have a lot of stars to look at. Now, however, he spends many nights out in the cold with his camera pointed towards the horizon, capturing the heavens and the land below them. He shared with us some crucial tips for getting amazing shots of the night sky.
How-To: Shoot Epic Landscape Photos Of the Night Sky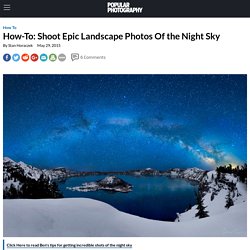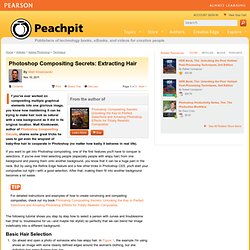 Home > Articles > Adobe Photoshop > Technique If you've ever worked on compositing multiple graphical elements into one glorious image, you know how maddening it can be trying to make hair look as natural with a new background as it did in its original location. Matt Kloskowski, author of Photoshop Compositing Secrets, shares some great tricks he uses to get even the wispiest of baby-fine hair to cooperate in Photoshop (no matter how badly it behaves in real life).
Extracting Hair | Photoshop Compositing Secrets: Extracting Hair
Black and White with a Splash of Colour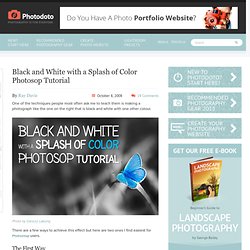 Email One of the techniques people most often ask me to teach them is making a photograph like the one on the right that is black and white with one other colour. There are a few ways to achieve this effect but here are two ones I find easiest for Photoshop users. The First Way
A Complete Beginner's Guide to Masking in Photoshop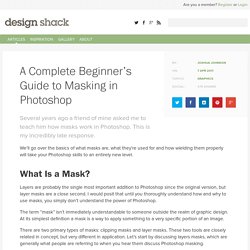 Several years ago a friend of mine asked me to teach him how masks work in Photoshop. This is my incredibly late response. We'll go over the basics of what masks are, what they're used for and how wielding them properly will take your Photoshop skills to an entirely new level. What Is a Mask?
We all use Photoshop on a daily basis, but I bet there's at least one tip in this post that will give you the old 'Why didn't I know of this before' moment! It's tips like these that make the most common of tasks quicker and easier than ever to help speed up your Photoshop workflow. Hold Spacebar to move a selection Drag a selection with the Marquee tool, but before releasing the mouse button, press and hold the Spacebar to relocate the selection.
20 Handy Photoshop Tips For a Faster Workflow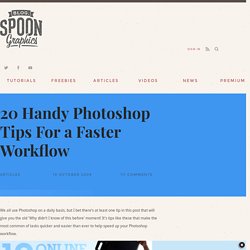 Photoshop Tutorial - How to Know if Your Image is Properly Isolated on White
How To Use The Pen Tool In Photoshop
Written by Steve Patterson. When it comes to making selections in Photoshop, there's really two types of people – those who know how to use the Pen Tool, and those who struggle. Most people put off learning how to use the Pen Tool for as long as possible, while others never get around to learning it, believing it's just too confusing, too complicated, and just plain unnatural.