Videos
"The Beaver Song" [[Full Song + Performance]] - How I Met Your Mother. The Beatles - Unplugged [Full Album] Batman Can't Stop Thinking About Sex. G. Love, Jack Johnson, and Donovan Frankenreiter Live at The Ram's Head Tavern Baltimore, MD Pt. 1. Human-slinky. Curiosity Cam, Ustream.TV: UPCOMING EVENT: NASA Mars Rover News 11:30 a.m. PDT (2:30 p.m. EDT) on Tuesday, Oct. 30 NASA will host a media teleconference t. UPCOMING EVENT NASA Tech Benefits Earth 7 p.m.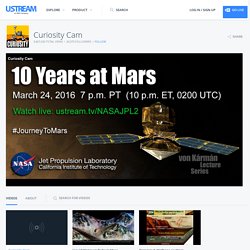 PT (10 p.m. ET, 0200 UTC), Thursday, April 10, 2014 NASA's Jet Propulsion Laboratory is known for missions that greatly impact our understanding of the solar system and the universe. But the ground breaking research and development done at JPL has also had many impacts on everyday life on earth. JPL innovations can be found everywhere, from farms to hospitals to our very own homes. Joe Henderson -- Black Narcissus. Jazzanova - Bohemian Sunset. QUARTETO EM CY - "Enquanto A Tristeza Não Vem" (Sérgio Ricardo) 1964. Neil Patrick Harris Recaps ALL Of How I Met Your Mother In Under 60 Seconds! How awesome is this??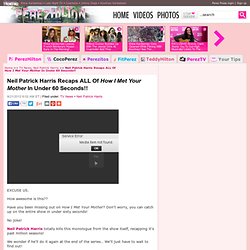 Have you been missing out on How I Met Your Mother? Don't worry, you can catch up on the entire show in under sixty seconds! No joke! Neil Patrick Harris totally kills this monologue from the show itself, recapping it's past million seasons! We wonder if he'll do it again at the end of the series… We'll just have to wait to find out! Most Insane Machine Ever! A Wonderful World puppet show -- music by Louis Armstrong! THE MARMALADE Identity: Behind the scenes (Super Slow Motion Effects That Look CGI) Weird girl dancing. Skrillex &Bangarang& covered by Dutch choir. Flying Lotus - MmmHmm. Weed Card by Garfunkel and Oates. Amazing domino video for Restless Legs.
Suspending Water Without a Cup Trick - CollegeHumor Video. Gamarjobat - Amazing Comedy Duo. Best dance - Atai Omurzakov best robot dance. Funny Siri Commercial Parody Fight Between Husband And Wife. NOTCOT.ORG.
---