Cosmology - UR
DanWinter-FractalPhysics-BlissScience-Sacred Geometry&Physics Consciousness
World Climate
Reality-Quantum-Digital-(CU-Seth)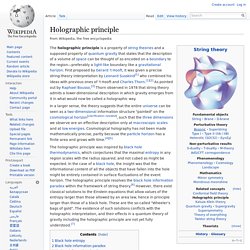 The holographic principle is a property of quantum gravity and string theories that states that the description of a volume of space can be thought of as encoded on a boundary to the region—preferably a light-like boundary like a gravitational horizon. First proposed by Gerard 't Hooft, it was given a precise string-theory interpretation by Leonard Susskind[1] who combined his ideas with previous ones of 't Hooft and Charles Thorn.[1][2] As pointed out by Raphael Bousso,[3] Thorn observed in 1978 that string theory admits a lower-dimensional description in which gravity emerges from it in what would now be called a holographic way. In a larger sense, the theory suggests that the entire universe can be seen as a two-dimensional information structure "painted" on the cosmological horizon, such that the three dimensions we observe are only an effective description at macroscopic scales and at low energies.
Fractals - Chaos & Fractals
Simply put, a fractal is a geometric object that is similar to itself on all scales. If you zoom in on a fractal object it will look similar or exactly like the original shape. This property is called self-similarity. An example of a self-similar object is the Sierpenski triangle show below. As one looks closer we observe that the large triangle is composed of three smaller triangles half the size (side length) of the original, which in turn are composed of three smaller triangles, and so on, and so on.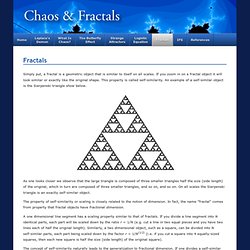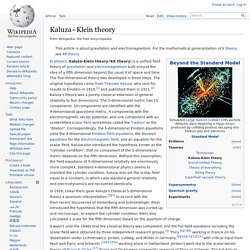 In physics, Kaluza–Klein theory (KK theory) is a model that seeks to unify the two fundamental forces of gravitation and electromagnetism. The theory was first published in 1921. It was proposed by the mathematician Theodor Kaluza who extended general relativity to a five-dimensional spacetime. The resulting equations can be separated into further sets of equations, one of which is equivalent to Einstein field equations, another set equivalent to Maxwell's equations for the electromagnetic field and the final part an extra scalar field now termed the "radion".
Kaluza–Klein theory