Music Market in Turkey
2000s in the music industry. In the first decade of the 21st century, the rise of computers as the primary means to record, distribute, store, and play music caused widespread economic changes in the music industry, fundamentally changing the relationships between artists, record companies, promoters, retail music stores, the technology industry, and consumers.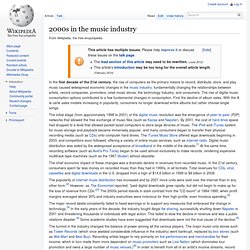 The rise of digital music consumption options contributed to a few fundamental changes in consumption. First the decline of album sales. With the A la carte sales models increasing in popularity, consumers no longer download entire albums but rather choose single songs. MÜ-YAP Bağlantılı Hak Sahibi Fonogram Yapımcıları Meslek Birliği. IFPI. SOPA supporters list updated, GoDaddy not included. Last week, the US Congress House Judiciary Committee released their list of companies who support the Stop Online Piracy Act.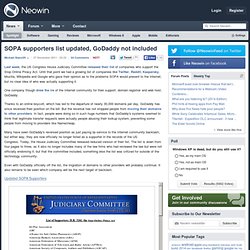 Until that point we had a growing list of companies like Twitter, Reddit, Kaspersky, Mozilla, Wikipedia and Google who gave their opinion as to the problems SOPA would present to the Internet, but no clear idea of who was actually supporting it. One company though drew the ire of the Internet community for their support, domain registrar and web host, GoDaddy. Thanks to an online boycott, which has led to the departure of nearly 30,000 domains per day, GoDaddy has since reversed their position on the bill. But the reversal has not stopped people from moving their domains to other providers. In fact, people were doing so in such huge numbers that GoDaddy's systems seemed to think that legitmate transfer requests were actually people abusing their lookup system, preventing some people from moving to providers like Namecheap.
Stop Online Piracy Act. Proponents of the legislation said it would protect the intellectual-property market and corresponding industry, jobs and revenue, and was necessary to bolster enforcement of copyright laws, especially against foreign-owned and operated websites.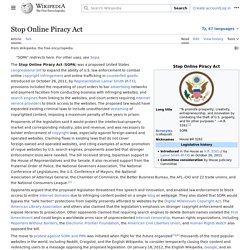 Claiming flaws in present laws that do not cover foreign-owned and operated websites, and citing examples of active promotion of rogue websites by U.S. search engines, proponents asserted that stronger enforcement tools were needed. Opponents claimed that the proposed legislation threatened free speech and innovation, and enabled law enforcement to block access to entire internet domains due to infringing content posted on a single blog or webpage. They expressed concerns that SOPA would bypass the "safe harbor" protections from liability presently afforded to websites by the Digital Millennium Copyright Act.
MÜ-YAP Bağlantılı Hak Sahibi Fonogram Yapımcıları Meslek Birliği. Downloads fail to fill gap as album sales plummet for sixth year running | Business. Take That were among record industry winners in 2010, with the year's bestselling album.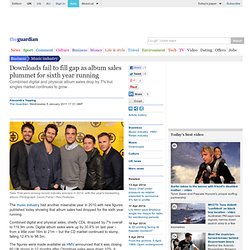 Photograph: David Fisher / Rex Features The music industry had another miserable year in 2010,with new figures published today showing that album sales had dropped for the sixth year running. Combined digital and physical sales, chiefly CDs, dropped by 7% overall to 119.9m units. Www.istanbulkulturenvanteri.gov.tr/files/yayinlar/ISTANBULDA_MUZIK_ENDUSTRISI.pdf.
Money, Music and Piracy - Effects of Piracy on Music Industry - Pirate Recording Industry. Share This Infographic: Add This Infographic to your Website Large Version <a href=" src=" alt="Money, Music and Piracy - The Music Industry Infographic" border="0" /></a><br />Infographic by: <a href="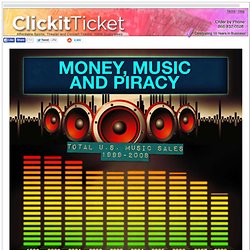 How Much Do Music Artists Earn Online? From David McCandless at Information is Beautiful, is a great infographic about How Much Do Music Artists Earn Online?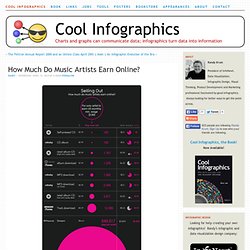 This is a fantastic topic for an infographic because the information is so confusing and difficult to find. I also really like the comparison of how many songs an artist needs to sell to equal the U.S. monthly minimum wage. This image is based on an excellent post at The Cynical Musician called The Paradise That Should Have Been about pitiful digital royalties.
(Thanks to Neilon for pointing that out). The Music Industry and Online Piracy. We are all Pirates.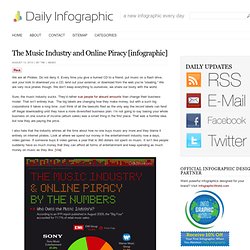 Do not deny it. Every time you give a burned CD to a friend, put music on a flash drive, ask your kids to download you a CD, lend out your external, or download from the web you're "stealing." We are very nice pirates though. How to write a research paper. Writing is easy.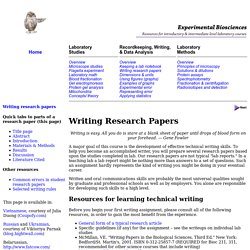 All you do is stare at a blank sheet of paper until drops of blood form on your forehead. --- Gene Fowler A major goal of this course is the development of effective technical writing skills. To help you become an accomplished writer, you will prepare several research papers based upon the studies completed in lab. Www-mech.eng.cam.ac.uk/mmd/ashby-paper-V6.pdf. Online Music in US.
---