Blogs
Production Apprentice - A behind the scenes look at the people who work behind the scenes – including news about film and TV and everything else production
That Post Show - かねん
On this special That Scruffy Post Show Kanen sits down with Stu Maschwitz and Merlin Mann on their second visit to the show! They discuss delegation, dealing with email and to do lists, assistants, and working hard to make being lazy possible. Does it get better than that? The Song This episode features the song "The Scruffy Thinking Show" by Andrew Ferris. You should check out his website for more information.
Jim Louderback
One of the things that we've found odd about the decade and a half history of the legacy entertainment industry seeking (often successfully) to shut down a variety of new platforms, is that if you actually looked at the artists who didn't completely freak out at these new services and who recognized what the new services were (better platforms for distribution and promotion, rather than the end of all civilization and culture as we know it), you quickly find that, if done right, the platforms could be used to those artists' advantage. We saw artists use the original Napster to their advantage, only to see it shut down. Ditto for MP3.com, Grokster, Kazaa, Limewire, Megaupload and more.
Case Studies.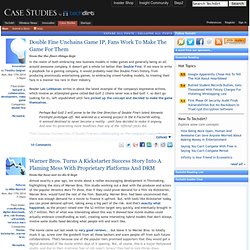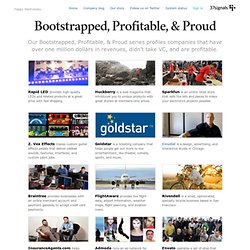 Bootstrapped, Profitable and Proud
Our Bootstrapped, Profitable, & Proud series profiles companies that have over one million dollars in revenues, didn't take VC, and are profitable. Sparkfun is an online retail store that sells the bits and pieces to make your electronics projects possible. Z. Vex Effects makes custom guitar effects pedals that deliver oddball sounds, textures, interfaces, and custom paint jobs. Goldstar is a ticketing company that helps people get out more to live entertainment, like theater, comedy, sports, and music. Coudal is a design, advertising, and interactive studio in Chicago.