Bread
Snickerdoodle Muffins. Snickerdoodle Muffins I have been obsessed with Pinterest lately!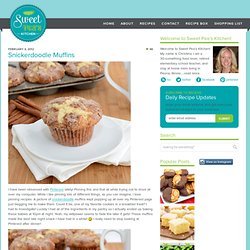 Pinning this and that all while trying not to drool all over my computer. Pumpkin Cinnamon Rolls Recipe. If you happen to read MBA on a regular basis, you may remember me discussing my fear of yeast and my attempt to conquer that fear with the help of Amber from Bluebonnets and Brownies.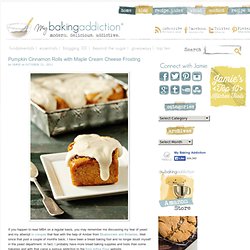 Well since that post a couple of months back, I have been a bread baking fool and no longer doubt myself in the yeast department. In fact, I probably have more bread baking supplies and tools than some bakeries and with that came a serious addiction to the King Arthur Flour website. Since I'm no longer a yeast novice, you can imagine how excited I am to flaunt my newly developed skills for this week's Holiday Recipe Exchange sponsored by Red Star Yeast. As soon as we gained Red Star Yeast as a sponsor, I knew exactly what I was going to make – Pumpkin Cinnamon Rolls. Italian Sandwich on Homemade Ciabatta. Photos by Jaymi Heimbuch This recipe was created exclusively to pair with the 2009 Viognier from our featured winery, Halter Ranch.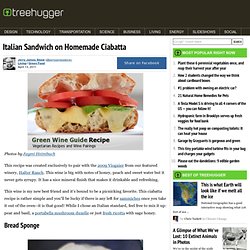 This wine is big with notes of honey, peach and sweet water but it never gets syrupy. It has a nice mineral finish that makes it drinkable and refreshing. This wine is my new best friend and it's bound to be a picnicking favorite. This ciabatta recipe is rather simple and you'll be lucky if there is any left for sammiches once you take it out of the oven--it is that good! No-Knead Bread. December 18, 2008 | By Adam Roberts | 56 Comments If you haven't heard about the no-knead bread by now, you clearly don't read many food blogs (or newspapers, for that matter.)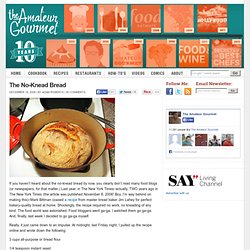 Last year, in The New York Times–actually, TWO years ago in The New York Times (the article was published November 8, 2006! Recipes: Croissant dough and croissants-julia childs pt 2. For at least 2 hours.
FOR THE THIRD TURN: Start agian with a 14 inch side running from your left side ti your right. Roll the dough into a rectangle 24 to 26 inches long by 14 inches wide. Fold the left and right sides of the dough into the center, leaving a little space in the centrer, and then fold one side over the other as though you were closing a book. Recipes: Croissant dough and croissants-julia childs pt 1. FOR THE DOUGH: Put the yeast, flour sugar, salt and 1 cup of milk into the bowl of a mixer fitted with a dough hook.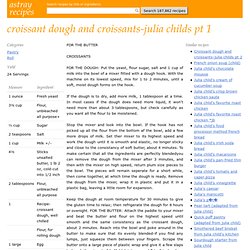 With the machine on its lowest speed, mix for 1 to 2 minutes, until a soft, moist dough forms on the hook. If the dough is to dry, add more milk, 1 tablespoon at a time.
---