Researchers
irlanda
Ian Cornelius | University College London - Academia.edu
Ian Cornelius BA, M.Litt., Ph.D., currently an Honorary Research Fellow in University College London (UCL) Department of Information Studies, formerly worked in the School of Information and Library Studies in University College Dublin. His main research interests are in Theories of Information, Interpretation in Information Science, and Information Policy. Recent publications include 'Quantum Leaps in Information Retrieval', Aslib Proceedings 61(3), 2009, pp. 331-336; and Information Policies and Strategies, published by Facet Publishing, March 2010.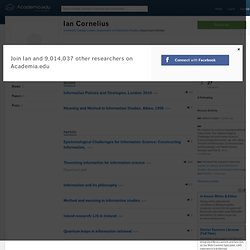 School of Information & Library Studies: Staff
cuba
Facultad de Comunicacion - Gloria Ponjuan Dante
Universidad de La Habana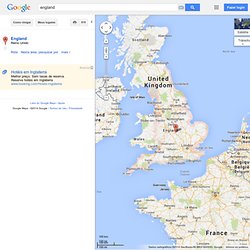 england
Usuário de leitor de tela: clique aqui para HTML simples Account Options Fazer login
IRIS - Ia Mcilwaine
The UCL Department of Information Studies offers postgraduate qualifications and training for all the information professions.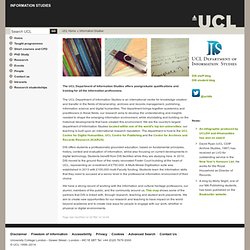 Information Studies
François Mairesse
Based in Nairobi, Kenya, NRC Nairobi focuses on understanding the unique needs of the African mobile phone user and creates concepts and visions to fulfill these needs. NRC Nairobi is working with University of Nairobi (Kenya), University of Cape Town (South Africa), and Grameen Foundation to solve the unique African language, cultural, educational and infrastructure challenges that can all be improved through mobile technologies.
Locations
Departamento de Ciencias de la Documentación e Historia de la Ciencia :: Universidad de Zaragoza
Cursos impartidos : XIX Curso de Formación de Historiadores de la Fundación "Sánchez Albornoz" como profesor del curso "Bibliotecas digitales@virtuales: profesionales e investigadores de nuevas formas de comunicación del conocimiento, dirigido por D. José López Yepes (Ávila, 14 al 25 de julio de 2003).
Departamento de Ciencias de la Documentación e Historia de la Ciencia :: Universidad de Zaragoza
Prof. David Ellis
Department of Information Studies
Dagobert Soergel | UB Graduate School of Education
Home | UB Graduate School of Education
itália
Glad to communicate with you.
Claudio Gnoli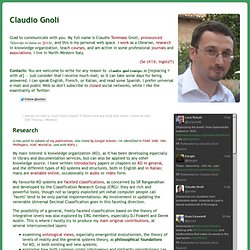 Dipartimento di Matematica - Università di Pavia
Università degli studi di Pavia - Biblioteche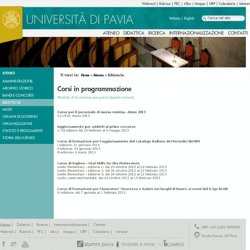 Modulo di iscrizione per partecipanti esterni
dinamarca
www.iva.dk/bh/ - Birger Hjorland
Resume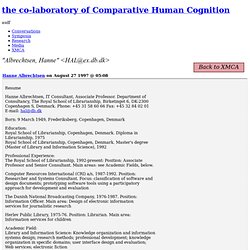 XMCA: "Albrechtsen, Hanne" <HAL>
English - IVA - Det Informationsvidenskabelige Akademi
Follow us on Facebook
canadá
Carol Kuhlthau
Carol Collier Kuhlthau is Professor Emerita of Library and Information Science at Rutgers University where she directed the graduate program in school librarianship that has been rated number one in the country by U.S. News. She achieved the rank of Professor II, a special rank at Rutgers requiring additional review beyond that for full professor.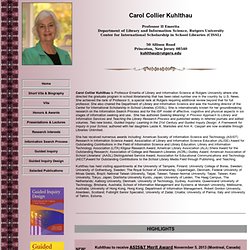 Home - School of Communication and Information - Rutgers University
EBSI - Recherche - Répertoire - Professeurs - Carol Couture
Bernd Frohmann's Home Page
Bernd Frohmann
Faculty of Information & Media Studies - The University of Western Ontario
I always blog about "essential reading," well here's some essential watching. Barbara Tillett, Chief of the Cataloging Policy and Support Office, Library of Congress, speaks about RDA in these two new webcasts: Resource Description and Access: Background / Overview
Cataloging Futures: Barbara Tillett
www.loc.gov/catdir/cpso/o-que-e-frbr.pdf
Barbara Craig | Faculty of Information
Chun Wei Choo | Faculty of Information
Faculty of Information
Asim Qayyum - School of Information Studies
School of Information Studies - SIS
estados unidos
Gary's Home Page
Faculty | sils.unc.edu
People Search | Virginia Tech
Virginia Tech | Invent the Future
Donald O. Case
School of Library and Information Science home
Clifford A. Lynch
School of Information
Christine L. Borgman Presidential Chair & Professor of Information Studies
UCLA Department of Information Studies
Blaise Cronin's Homepage
School of Library and Information Science, Indiana University Bloomington
School of Library and Information Science, Indiana University
Carol Tenopir | School of Information Sciences
Carol Tenopir | Personal web site of Carol Tenopir
Home | School of Information Sciences
Ann Bishop
Graduate School of Library and Information Science | University of Illinois
Arlene G. Taylor | School of Information Sciences | University of Pittsburgh
School of Information Sciences | University of Pittsburgh
portugal
FLUP - Armando Malheiro
FLUP - Fernanda Ribeiro
Universidade do Porto
FLUP - Faculdade de Letras da Universidade do Porto
spain
Locher, Anita - Facultat de Biblioteconomia i Documentació. Universitat de Barcelona
Universitat de Barcelona
Universitat de Barcelona
Universidad de Sevilla :: GARCIA GUTIERREZ, ANTONIO LUIS
Universidad de Sevilla :: PERIODISMO I
www.uam.es/emilia.curras
www.uam.es
people
nkos.slis.kent.edu/KO_35_2-3_ToC_Preface.pdf