Soft Utilities
Competitors Salesgenius This application is used to send emails to groups of people and to track which pages were viewed and for how long.
Mailchimp Competitors - CloudSurfing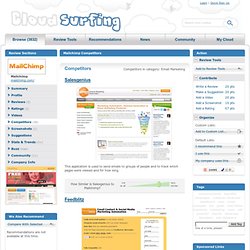 Bienvenue sur Windows Live
Algorithm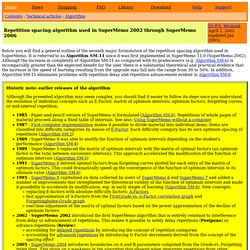 Below you will find a general outline of the seventh major formulation of the repetition spacing algorithm used in SuperMemo. It is referred to as Algorithm SM-11 since it was first implemented in SuperMemo 11.0 (SuperMemo 2002). Although the increase in complexity of Algorithm SM-11 as compared with its predecessors (e.g. Algorithm SM-6) is incomparably greater than the expected benefit for the user, there is a substantial theoretical and practical evidence that the increase in the speed of learning resulting from the upgrade may fall into the range from 30 to 50%. In addition, Algorithm SM-11 eliminates problems with repetition delay and repetition advancement evident in Algorithm SM-8.
Choose a platform from the left. Download Anki for Windows Installation Save the installer to your desktop or downloads folder.
Lorsque je monte une machine pour un client et qu'il a donc bénéficié d'une licence Windows OEM, je me permets de poser ma signature du l'ordinateur. En effet, comme toutes les grandes marques (ASUS, HP, ACER…) vous pouvez poser votre logo, le nom de votre entreprise, l'adresse de votre site web ainsi que vos horaires dans les propriétés système. Cela permet plusieurs choses : votre client vous retrouvera plus facilement et si celui-ci fait appel a quelqu'un d'autre et que celui-ci a besoin de contacter le monteur de la machine, il pourra le faire facilement. Et puis sinon pour votre PC perso c'est un peu stylé aussi :p #CUSTOM_PAWA Pour cela j'ai deux petits scripts que je vous offre à la fin de l'article.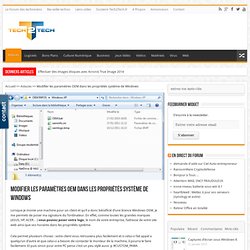 Modifier les paramètres OEM dans les propriétés système de Windows
PC Décrapifier : Comment nettoyer un PC neuf ?
PC Décrapifier, sous ce nom étrange se cache un logiciel bien pratique compatible Windows XP, Vista et 7. Cette application permet de nettoyer votre ordinateur des logiciels superflu qui ont pu l'envahir. Que ce soit les toolsbar de navigateur, les antivirus installés par défaut, les microsoft office student ou trial, ou bien les applications potentiellement indésirables. En effet, lorsque l'on achète un ordinateur, la plupart du temps, que ce soit chez ASUS, ACER (surtout ACER !)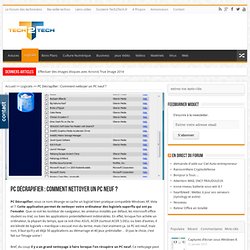 Free web based email address extractor from text
One : Downloads : Windows : Install Ubuntu One for Windows
Over 20 million downloads for Mac and Windows. Thousands of live audio & video effects online. Download ManyCam 4.0 Free! Available for Windows and Mac