Storytelling
StoryStorm
Elements of storytelling frequently appear in research, from the germ of new project ideas, and the creation of hypotheses, to development through design processes, and towards new products and services. We also use storytelling for communication of our work, to peers, end users, the wider public and organisations. These stories appear in many guises, navigating tradition forms of writing, practice and critical enquiry, and creating wholly different experiences accessible in a new era of distribution. This one-day workshop will identify and map the range of conscious and unconscious storytelling tools adopted in all stages of research, including design processes (e.g. Personas and Scenarios, Forum Theatre, and Design Fictions) and artifacts (e.g.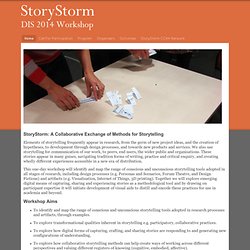 StoryStorm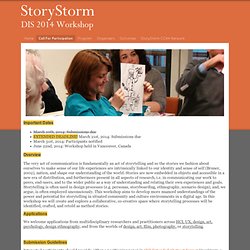 Important Dates March 10nd, 2014: Submissions dueMarch 31st, 2014: Participants notifiedJune 22nd, 2014: Workshop held in Vancouver, Canada The very act of communication is fundamentally an act of storytelling and so the stories we fashion about ourselves to make sense of our life experiences are intrinsically linked to our identity and sense of self (Bruner, 2002), nation, and shape our understanding of the world.
Call For Participation - StoryStorm
StoryStorm
2014 Festival | Beyond The Border Wales International Storytelling Festival
Beyond The Border Wales International Storytelling Festival You are here: Home » 2014 Festival 2014 Festival 4th to 6th July 2014 St Donats Castle, South Wales.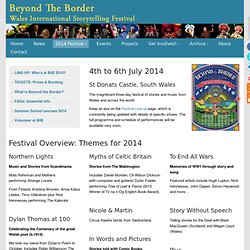 Bridge of Tales | Bringing Storytelling to Bridge of Earn
Invalid quantity. Please enter a quantity of 1 or more. You cannot order more than 10 ticket types at a time. The quantity you chose exceeds the quantity available. Please enter your name. Please enter an email address.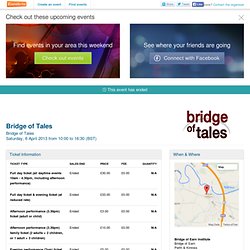 Bridge of Tales - Eventbrite
Mike Baldwin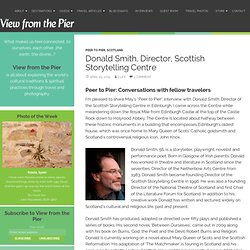 Peer to Pier: Conversations with fellow travelers I'm pleased to share May's "Peer to Pier" interview with Donald Smith, Director of the Scottish Storytelling Centre in Edinburgh. I came across the Centre while meandering down the Royal Mile from Edinburgh Castle at the top of the Castle Rock down to Holyrood Abbey. The Centre is located about halfway between these historic monuments in a building that encompasses Edinburgh's oldest house, which was once home to Mary Queen of Scots' Catholic goldsmith and Scotland's controversial religious icon, John Knox. Donald Smith, 56, is a storyteller, playwright, novelist and performance poet. Born in Glasgow of Irish parents, Donald has worked in theatre and literature in Scotland since the seventies.
Interview with Donald Smith, Director of the Scottish Storytelling Centre in Edinburgh | View from the Pier : Travel, Photography, Discovery
Three Channels Terrence Gargiulo
Directions 1.Spend ten minutes talking about the three channels of information (content,emotions, and intentions—see the Tips section below for explanations andguidelines).2.Ask for a volunteer to share a problem he or she is encountering at work or inhis or her personal life. Tell the person to be prepared to speak for seven to tenminutes.3.Divide people into three groups. Assign each group one channel of information(content, emotions, or intentions).4.Let the volunteer share his or her story without any interruptions or questions.5.Query each group to recount the information they obtained.6.Debrief the group.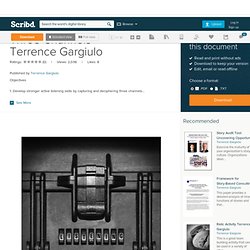 Dundee Storytelling Group, Blether Tay-gither - stories, storyte
30.03.2012 Sugar N' Spice Less than a week from the night and I am managing to put the time in to write this reflection on our last storytelling evening. Happy Birthday to us!
Blethering in and around Dundee – Blether Tay-Gither Storytellin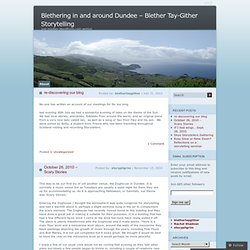 NEW WEBSITE: Please note that the arts information on this website has relocated to a new website as of 06.09.13 which you can find here. You can carry on using this website for information and ticket sales for the time being, however we will be phasing out this website in the next weeks. Take me to the new website The Scottish Storytelling Centre | Scottish Storytelling News an
The Grampian Association of Storytellers ("GAS") are a group of storytellers who organise storytelling events and workshops, provide professional storytellers for events and provide a focal point for storytelling in the North East of Scotland. Click here for more information about GAS or scroll down to see our upcoming activities! Friday Flings
Grampian Association of Storytellers