Storytelling
Debbie maxwell sur Twitter : Yoga #storytelling this evening at blether, not sleeping! Upcoming events by Blether Tay-Gither (Dundee Storytelling Group) for stories, storytellers, storytelling. Blether Tay-gither generally meets on the last Tuesday of each month throughtout the year.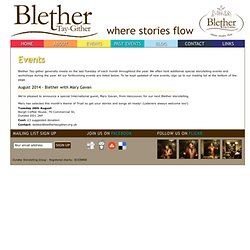 We often hold additional special storytelling events and workshops during the year. All our forthcoming events are listed below. To be kept updated of new events, sign up to our mailing list at the bottom of the page. Hello Ruby. Storying Sheffield | A cloth woven of stories told. Narratively: Human stories, masterfully told. StoryStorm. Elements of storytelling frequently appear in research, from the germ of new project ideas, and the creation of hypotheses, to development through design processes, and towards new products and services.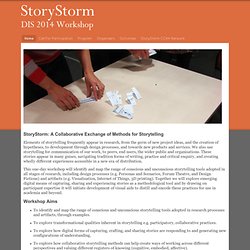 We also use storytelling for communication of our work, to peers, end users, the wider public and organisations. These stories appear in many guises, navigating tradition forms of writing, practice and critical enquiry, and creating wholly different experiences accessible in a new era of distribution. This one-day workshop will identify and map the range of conscious and unconscious storytelling tools adopted in all stages of research, including design processes (e.g. Personas and Scenarios, Forum Theatre, and Design Fictions) and artifacts (e.g.
StoryStorm. Call For Participation - StoryStorm. Important Dates March 10th, 2014: Submissions dueEXTENDED DEADLINE!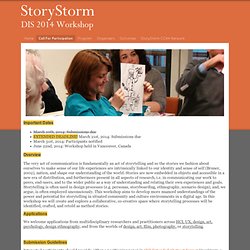 March 21st, 2014: Submissions dueMarch 31st, 2014: Participants notifiedJune 22nd, 2014: Workshop held in Vancouver, Canada. StoryStorm. 2014 Festival | Beyond The Border Wales International Storytelling Festival. 4th to 6th July 2014 St Donats Castle, South Wales The magnificent three-day festival of stories and music from Wales and across the world.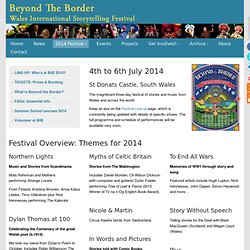 Keep an eye on the Festival Line-up page, which is constantly being updated with details of specific shows. The full programme and schedule of performances will be available very soon. Bridge of Tales | Bringing Storytelling to Bridge of Earn. Bridge of Tales. Invalid quantity.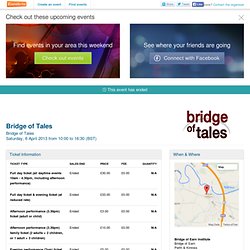 Please enter a quantity of 1 or more. The quantity you chose exceeds the quantity available. Please enter your name. Please enter an email address. Please enter a valid email address. Mike Baldwin. Interview with Donald Smith, Director of the Scottish Storytelling Centre in Edinburgh | View from the Pier : Travel, Photography, Discovery. Peer to Pier: Conversations with fellow travelers I'm pleased to share May's "Peer to Pier" interview with Donald Smith, Director of the Scottish Storytelling Centre in Edinburgh.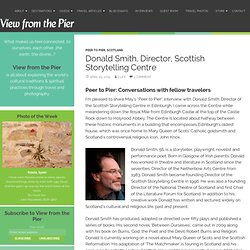 I came across the Centre while meandering down the Royal Mile from Edinburgh Castle at the top of the Castle Rock down to Holyrood Abbey. The Centre is located about halfway between these historic monuments in a building that encompasses Edinburgh's oldest house, which was once home to Mary Queen of Scots' Catholic goldsmith and Scotland's controversial religious icon, John Knox. Donald Smith, 56, is a storyteller, playwright, novelist and performance poet. Born in Glasgow of Irish parents, Donald has worked in theatre and literature in Scotland since the seventies.
Three Channels Terrence Gargiulo. Dundee Storytelling Group, Blether Tay-gither - stories, storyte. Blethering in and around Dundee – Blether Tay-Gither Storytellin. The Scottish Storytelling Centre | Scottish Storytelling News an. Grampian Association of Storytellers.
---