Pagan Religions
In a previous post I espoused using ancestry.com to to genealogical research, and how it could be used to honor our ancestors. If you start doing research on your ancestors when you are linking one relative to another there are two primary methods to linking. First is links to other people's trees. If you have a relative in your tree, and it seems to match another persons tree, you can attach information about their immediate family members to your tree. (Why you can't just grab their tree from that point forward and attach it to yours seems silly, but it is what it is).
Welcome to the Modern Heathen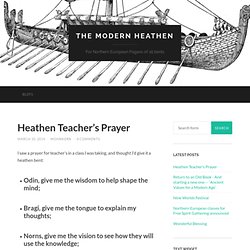 -top story- RECORD CROWDS AT STONEHENGE SOLSTICE CELEBRATION - - - England. (The Times (UK))- June 22, 2009 - Druids began their incantations, Wiccan priestesses drew their cowls tight against the damp morning air and four half-naked Papuan dancers waved their hands in the air and went: "Woo, woo, woo".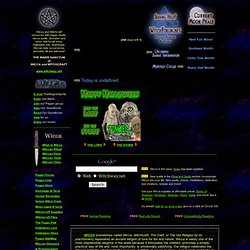 Welcome to the Church and School of Wicca's homepage. Since 1968 we have taught, traveled, and written, sharing with the world: This website contains materials by and about the Church and School of Wicca, including history, course descriptions, biographies of the founders, instructional tapes for sale, and more. We are always happy to meet someone else who is interested in exploring Witchcraft, the Old Religion, and its way of life. Witchcraft (Wicca Craft), is also called Wicca, or alternatively, The Craft. This previously underground religion has much to teach every human about survival and about the ethical use of natural innate powers.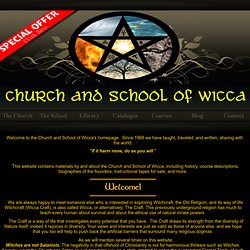 Θύρσος - Έλληνες Εθνικοί - Νέα
Welcome to the website of the Druid Grove, the Order of Bards, Ovates and Druids. Druidry Courses and Druidry Training We specialise in druidry courses & druidry training. Here you can learn about druids and druidism. The Order of Bards Ovates & Druids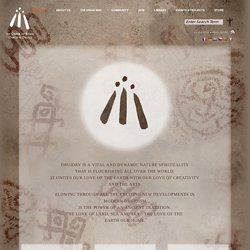 ? ? ? ? ? ? ? ? ? ? . c o m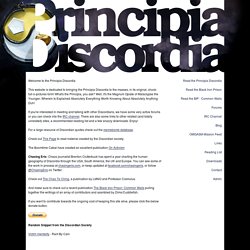 Principia Discordia | the book of Chaos, Discord and Confusion | Fnord!
Welcome to the Principia Discordia This website is dedicated to bringing the Principia Discordia to the masses, in its original, chock-full-o-pictures form! What's the Principia, you ask?
Neokoroi - The Temple Keepers
Neokoroi The Temple Keepers Latest News 9 May 2012 - He Epistole Spring 2012. Download it here 19 February 2012 - He Epistole pages updated (click for details...) 22 January 2012 - Fixed a bug that corrupted He Epistole files on download 15 January 2012 - Rescue Update: 45 pages rescued from the old website and several other changes.
Welcome to the Frontpage
Welcome to Tairis! Since becoming more involved in Gaol Naofa and (as of January 2014) taking over leadership of the organisation, my energies are now mostly being channelled into that role and serving the members of that organisation, along with some offline writing projects. Là Fhèill Brìghde saw the release of Gaol Naofa's latest publication, Children and Family in Gaelic Polytheism.