Ridley Scott's Prometheus
PROMETHEUS: HUGE SPOILER EXCLUSIVE CONTAINED IN CALLSHEET (YES I SAID SPOILER!) | the propstop's world of entertainment memorabilia. Okay boys and girls.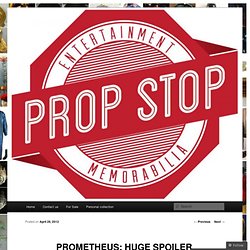 Im a spoiler freak. I love em…BUT….I know not everyone does so Im not going to talk about them in the article. If you arent wanting to know don't read or look at it. Bottom line this movie will rock! I have of course removed phone numbers from this in respect of those involved with the production.
Fans. Transmedia. Images. PROMETHEUS - Starmap - US on Facebook. Peter Weyland at TED2023: I will change the world. Peter Weyland has been a magnet for controversy since he announced his intent to build the first convincingly humanoid robotic system by the end of the decade.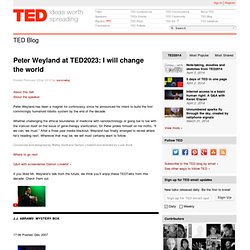 Whether challenging the ethical boundaries of medicine with nanotechnology or going toe to toe with the Vatican itself on the issue of gene-therapy sterilization, Sir Peter prides himself on his motto, "If we can, we must." After a three year media blackout, Weyland has finally emerged to reveal where he's heading next. Wherever that may be, we will most certainly want to follow.
PROMETHEUS Teaser Poster Photo. As you may have noticed, summer 2012 movies are getting marketed like crazy as audiences head to the multiplex over the holidays.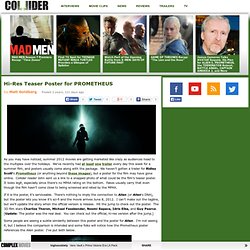 We've recently had at least one trailer every day this week for a summer film, and posters usually come along with the package. We haven't gotten a trailer for Ridley Scott's Prometheus (or anything beyond these images), but a poster for the film may have gone online. Comic-Con '11: Charlize Theron Says She Runs Weyland-Yutani (aka The Company) In 'Prometheus' > The Playlist. The puzzle of Ridley Scott's "Prometheus" is slowly, but surely beginning to take a hazy shape.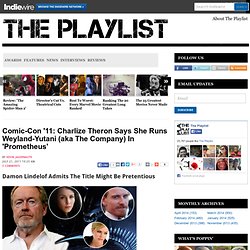 Earlier today, we got our first official look at the film, and the surprises keep coming. The press conference brought out one of the film's stars, Charlize Theron and together with writer Damon Lindelof, they fielded questions about the upcoming "Alien" universe film and while we're still no closer to a full picture of what's to come, we did get a few more scraps. PROMETHEUS Image. Prometheus probably has the highest ratio of Audience Anticipation to Public Information of any movie in production.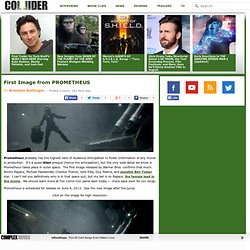 It's a quasi-Alien prequel (hence the anticipation), but the only solid detail we know is Prometheus takes place in outer space. The first image released by Warner Bros. confirms that much. Noomi Rapace, Michael Fassbender, Charlize Theron, Idris Elba, Guy Pearce, and possibly Ben Foster star. New Set Photos From Prometheus Emerge! Here are some brand new set photos, taken from the designs of H.R Giger, for Ridley Scott's upcoming Prometheus!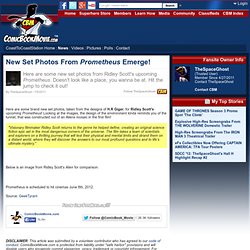 Looking at the images, the design of the environment kinda reminds you of the tunnel, that was constructed out of an Aliens mosaic in the first film! "Visionary filmmaker Ridley Scott returns to the genre he helped define, creating an original science fiction epic set in the most dangerous corners of the universe. The film takes a team of scientists and explorers on a thrilling journey that will test their physical and mental limits and strand them on a distant world, where they will discover the answers to our most profound questions and to life's ultimate mystery. " Below is an image from Ridley Scott's Alien for comparison. Prometheus is scheduled to hit cinemas June 8th, 2012. If this is actually the real plot for Ridley Scott's Prometheus, just shoot us now. Disclaimer : This may be clutching at straws somewhat, but anyway...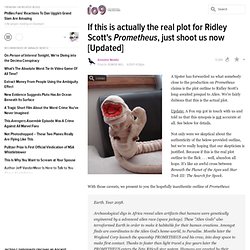 Prometheus stole fire from the gods, so there needs to be a reason why the ship is called Prometheus, related to this. For a stab at a couple of suggestions: 1. The mission was to steal technology from the "gods", either the crew as a whole, or just the one individual on a covert mission. Either way, it would seem like an almost Dickensian naming choice, they may as well have gone with USS Badguys, or. Michael Fassbender Praises PROMETHEUS Director and Crew. The actor who will help bring to life Ridley Scott's huge sci-fi return reflects on his first impressions while stepping onto the set, what he plans on bringing to his character, and what it is like to work with the storied director.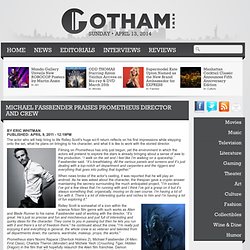 Filming on Prometheus has only just begun, yet the environment in which the actors will pretend to explore the stars is already bringing about a sense of awe to the production. "I walk on the set and I feel like I'm walking on a spaceship," Fassbender said. "It's breathtaking. All the various panels and screens and it's just dealing with a top-notch art department and carpenters and the riggers and everything that goes into putting that together. " When news broke of the actor's casting, it was reported that he will play an android. RUMOR: Major Details Emerge On 'Prometheus'. Since we first heard whispers about 'Prometheus', it's been hidden behind and extremely thick shroud of secrecy, and not much has changed other than a few possible spoilers and plot details that have "leaked" out.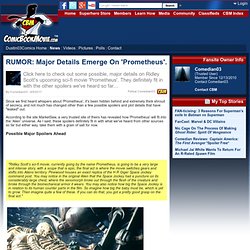 According to the site MarketSaw, a very trusted site of theirs has revealed how 'Prometheus' will fit into the 'Alien' universe. As I said, these spoilers definitely fit in with what we've heard from other sources so far but either way, take them with a grain of salt for now. Possible Major Spoilers Ahead "Ridley Scott's sci-fi movie, currently going by the name Prometheus, is going to be a very large and intense story, with a scope that is epic, the final act is where the movie switches gears and shifts into Aliens territory. Ridley Scott Clears The Air On Prometheus; More Added To Cast. Prometheus director Ridley Scott has finally come forward to make sense of the plethora of rumors circulating about the film's plot.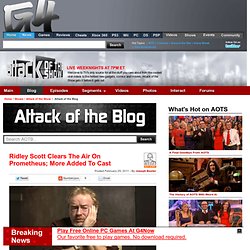 The big news: The film will not be a prequel to the Alien series. Originally intended as a set of prequels for the Alien franchise, the project would be scrapped in favor of an altered form of Lost mastermind Damon Lindelof's script, which would eventually become Prometheus. However, rumors seemed to persist that the film would maintain its connection to the Alien universe and its status as a prequel, even with a recent story alleging a leaked plot focusing on the origin of the Alien Xenomorphs. All of that, however, came to an end when Scott spoke to The Daily Mail at a Sunset Boulevard set pre-Oscar get-together where he made clear the film's status as an original storyline.
Nouvelles
News. Tournage. Vidéos/Prometheus. Cast.
---