Projects
Crystal Egg Geodes - Martha Stewart Easter. Geodes can be grown without using egg dye.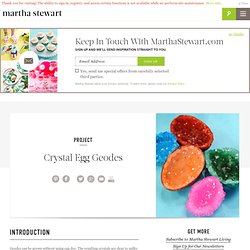 The resulting crystals are clear to milky white, like quartz. While large chicken eggshells are suggested in this process, larger eggshells can be used. Crafts: Bottle Fish. Can you believe this nice craft was made from trash?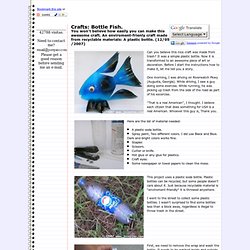 It was a simple plastic bottle. Now it is transformed to an awesome piece of art or decoration. Before I start the instructions how to make it, let me tell you a story. One morning, I was driving on Riverwatch Pkwy (Augusta, Georgia). Yoda Free Paper Model from www.ss42.com. Yoda Paper Model with Follow Me Eyes Yoda Paper Model with Follow Me Eyes is a tribute to our favorite Star Wars™ character: Yoda™.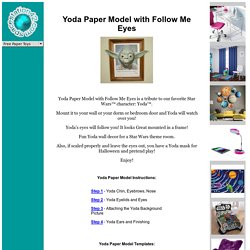 Mount it to your wall or your dorm or bedroom door and Yoda will watch over you! Yoda's eyes will follow you! Bendy Straw Shrimp Tutorial. Hello Class!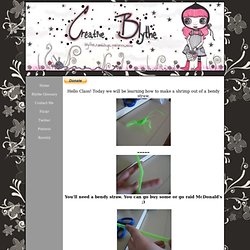 Today we will be learning how to make a shrimp out of a bendy straw. You'll need a bendy straw. How to make a snow globe | TidyMom - StumbleUpon. Do stuff! & Ten minute no-sew recycled t-shirt bag! - StumbleUpon. Tutorial time!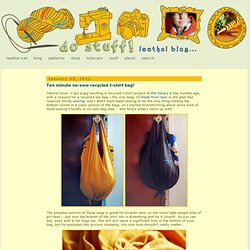 I got a gig teaching a recycled t-shirt project at the library a few months ago, with a request for a recycled tee bag – the only bags I'd made from tees in the past had required sturdy sewing, and I didn't want hand-sewing to be the only thing holding the bottom closed in a class version of the bags, so I started brainstorming about some kind of hand-sewing-friendly or no-sew bag idea…. and here's what I came up with!
The simplest version of these bags is great for smaller tees, or the more light-weight kind of girl-tees – just turn the bottom of the shirt into a drawstring and tie it closed! Print Hula Hoop Rug Page | Crafts | FamilyFun - StumbleUpon. This photo originally appeared in FamilyFun Magazine Total Time 2 to 3 hours Ages school-age What does it take to transform a pile of old T-shirts into spectacular works of woven art?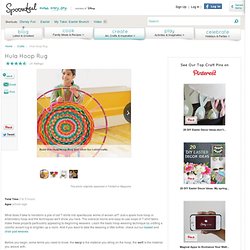 Just a spare hula hoop or embroidery hoop and the techniques we'll show you here. The oversize looms and easy-to-use loops of T-shirt fabric make these projects particularly appealing to beginning weavers. Learn the basic hoop weaving technique by crafting a colorful accent rug to brighten up a room. Re-purposing: Tshirts into 5-strand-braided-headbands. I was walking through Target a few weeks ago and noticed this little knit fabric headband that was not just braided together…….but woven.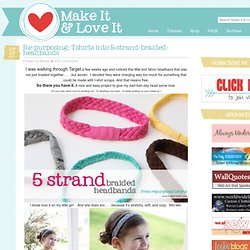 I decided they were charging way too much for something that could be made with t-shirt scraps. And that means free. Tutorials for Recycling Books - StumbleUpon. We rode bikes around our neighborhood this weekend and stopped at all the garage sales we found along the way.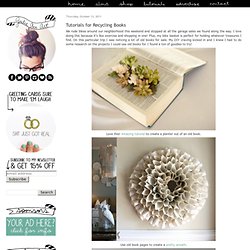 I love doing this because it's like exercise and shopping in one! Plus, my bike basket is perfect for holding whatever treasures I find. On this particular trip I was noticing a lot of old books for sale. Make Your Own Gifts LIGHT BULB TERRARIUM – Green Holiday Gift Guide. Do-it-Yourself DIY String Wedding Lanterns Yarn Chandeliers - StumbleUpon. Jessica of Wednesday Inc shows us how to make those gorgeous twine chandeliers from the inspiration shoot she shared with us this morning.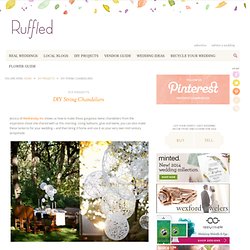 Using balloons, glue and twine, you can also make these lanterns for your wedding – and then bring it home and use it as your very own mid century lampshade. What you will need are: balloons, glue, yarn, tray for glue, corn starch 1/2 cup of Corn starch, 1/4 cup of Warm water, clear fast drying spray paint, hanging lamp cord or fishing line (depending on your desired final product), and a lighting kit if you're looking for a fully functional lantern.
Jessica recommends using a sharpie to mark on the inflated balloon how much room you need to leave for the lighting cord. She also recommends coating the balloon with vaseline prior to wrapping the yarn coated with glue so it doesn't stick on the balloon once it's dry. You can see all the details on Jessica's blog. How To Make a String Tree Wall Mural Home Hacks | Apartment Therapy Re-Nest - StumbleUpon. Previous image Next image This impressive mural (along with a few others) were made by artist Kathryn Anderson with nothing more than pushpins and yarn.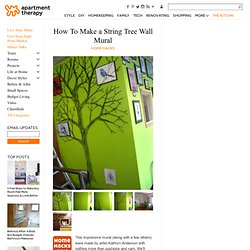 We'll show you how you can create your own, step by step and with tips from the artist.Kathryn Anderson of KAndeArt has made some great wall murals out of nothing more than string and push pins.
---