Potatoes
Scalloped Hasselback Potatoes. "Scalloped" is an attractive word, isn't it?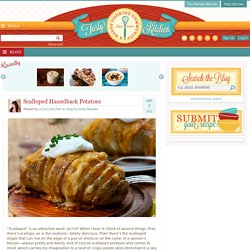 When I hear it I think of several things: first, there's scallops, as in the seafood—totally delicious. Then there's the scalloped shape that can live on the edge of a pair of shorts or on the collar of a woman's blouse—always pretty and dainty. And of course scalloped potatoes also comes to mind, which carries my imagination to a land of crispy potato skins drenched in a sea of cheese and cream. I can think of no better place to exist, actually. Rustic Herb Potatoes | MAZA. Provençal or urban – this is the most accommodating side for everyday meals.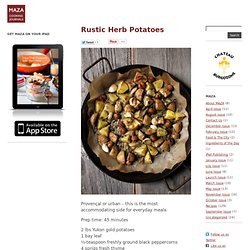 Prep time: 45 minutes 2 lbs Yukon gold potatoes 1 bay leaf ½-teaspoon freshly ground black peppercorns 4 sprigs fresh thyme 2 sprigs fresh rosemary 12 medium garlic cloves, not peeled 4 tablespoons olive oil ½ cup beer Salt and freshly ground black pepper to taste Cut the potatoes into irregular big chunks. Rosemary Goat Cheese Mashed Potatoes. So, I'd like to go on record as saying that mashed potatoes are pretty dang good on their own, and I usually don't condone any messing with a good old classic mashed potato recipe.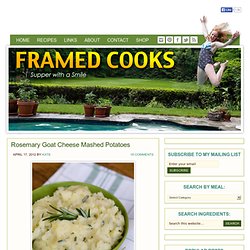 On occasion my mother has snuck some mashed parsnips into her mashed potatoes. Or maybe it was mashed turnips. Whatever it was, I know her intentions were good, but we figured it out and staged a mutiny. Baked Potato Salad Recipe : Guy Fieri. So Yummy Baked Potato Salad Recipe - Food.com - 21304. No Weird Stuff Simple Potato Salad. Crispy Oven-Baked Garlic Parmesan Fries. By brooklynsupper | While it's available year round, when you start to see garlic scapes, green garlic, and young garlic arriving at the farmer's market, you know spring has arrived.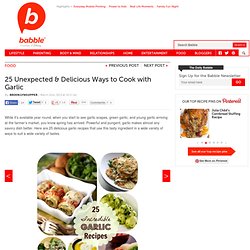 Powerful and pungent, garlic makes almost any savory dish better. Here are 25 delicious garlic recipes that use this tasty ingredient in a wide variety of ways to suit a wide variety of tastes. nggallery id='131282′
---