Gardening
As a rule, seeds should not be buried any deeper than their diameter. Forget the quarter-inch planting depths you see on many seed packets. That's too deep for all but the biggest seeds, such as peas and beans. Some seeds even need light to germinate—don't bury those at all. Cover these seeds: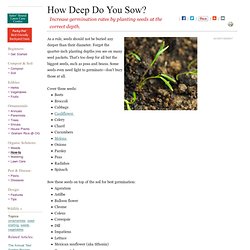 Organic Gardening Guide to Correct Seed Planting Depth
Compost Soil - How to Add Compost to Soil Video
Adding compost to soil is an excellent way to give your garden much needed nutrients and extra moisture. Learn this simple technique & flex your green thumb today!See Transcript Hi, I'm Sam Barrett, owner of Sam Barrett Designs.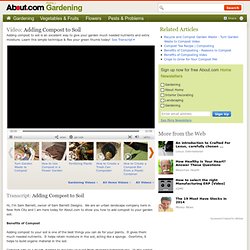 Potting Soil Recipes
2 part peat moss or coir 1 part perlite The second recipe is a soilless recipe based on the Cornell Mix concept; the third is a classic soil-based formula. Organic substitute for Cornell Mix (large quantity)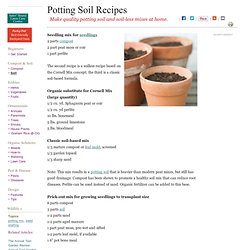 Byron's World Famous Tea Recipe For Starting Seeds (Entire Thread) -
Posted by: Byron 4a/5b NH (My Page) on Tue, Feb 26, 02 at 10:36 I use a weak tea formula. Make a cup of tea, anything that you have. Let it steep for 4 min, then dump it.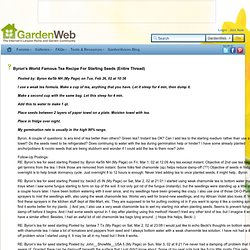 Use Your Egg Cartons to Grow Seedlings - CHOW Tip
Homemade Organic Aphid Spray
Aphids are pesky little critters who usually top a gardener's list of "most hated" insect pests. The tiny pearly green or milky white insects are almost impossible to avoid. They love just about all vegetables and ornamentals. Apple trees, roses and beans are especially susceptible to aphid attack, and symptoms of aphid infestation include curled leaves, deformed fruit and honeydew secretions on the plant. Fortunately, aphids can be controlled well with several cultural practices, and chemical controls are seldom necessary. Identifying AphidsOnce aphids are noticed, act quickly.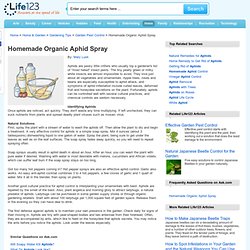 Organic Solutions to Help Keep Deer Out of Your Garden
When most people think of garden pests insects are the first things that come to mind. While insects can be hazardous to your garden, there are animal pests which can do great damage, as well. Here are some tips to help you minimize the damage that deer can do to your garden.
Home - Trew Organic Produce, Berkshire Pork and Shropshire Sheep breeders
Organic Pest Control, Biological Solutions for Pest Management, Rincon Vitova Insectaries
Hardiness Zones, Gardening Zones, Growing Zones and Plant Zones refer to defined geographic regions that can support specific plants, flowers and trees. The zones define a minimum range of temperatures that a plant or tree can survive safely in that zone. The most commonly used Hardiness Zones were defined by the USDA.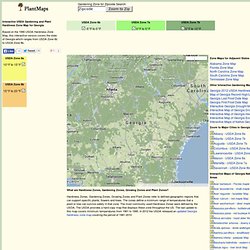 Georgia Interactive USDA Plant Hardiness Zone Map
The Antique Rose Emporium
Sources of Organic Fertilizers and Amendments Search Results: ATTRA - National Sustainable Agriculture Information Service
April 28, 2002|By Dennis Bishop | Dennis Bishop,Special to the Sun Q. We are planting asparagus in our community garden plot and it was recommended that we incorporate rock phosphate into the soil before planting. What is rock phosphate?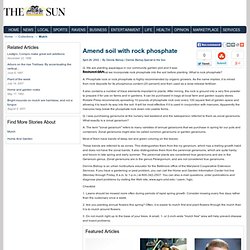 Amend soil with rock phosphate
Storing vegetable seeds to re-use the following year can save you money and time. However you do need to keep the seeds in a cool dark dry place if they are to remain viable. The following seed viability table show the most popular seeds and the average length of time that you can expect to be able to store the seed for.
Vegetable Seed Viability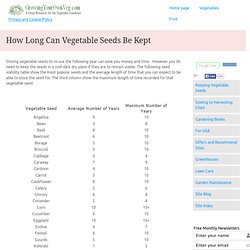 Find out if your soil is acidic or alkaline without a pricey test kit. Difficulty: Easy Time Required: 15 minutes or less Here's How: Scoop some soil into a container.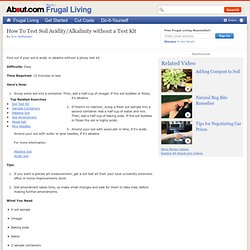 Everything You Need to Know About Composting With Worms | Verge Permaculture
Following my recent blog post on the Do-It-Yourself Vermipod, I've been receiving a ton of questions from folks who built Vermipods and are looking for information on how to manage and maintain their new pets. So here's a compilation called Everything You Need To Know About Composting With Worms…
It's hard to believe but, yes, spring is on its way.
On many occasions, we've been tempted to grow our own potatoes.
Soil preparation: Garlic will tolerate some shade but prefers full sun. While I've seen cloves sprout in gravel pits, garlic responds best in well-drained, rich, loamy soil amended with lots of organic matter. Raised beds are ideal, except in very dry regions.
As the weather gets warmer and we turn to spending more and more time in the garden growing flowers and vegetables, it's always fun to get the kids involved. Gardening can be a lot of work, but it's also very rewarding and kids are sure to love it once they get their hands in the dirt and start to reap the rewards of the seeds they sew. It's also great to get them involved at a young age both so that they can learn more about the process of growing and where their food comes from as well as because it's a great activity for the entire family to do together. Here are a few items that are sure to get the kids excited to participate in the garden this season.
5 Products that Will Get Your Kids Excited About Gardening This Year
Companion Plants
Garden designs & gardening tips. Natural, Organic and Conventional
Landscape Material Lawrenceville GA | Landscaping Supplies Dacula GA
Gardening Resources, Cornell University
Nimble NiteCap Seed Co.
Vegetable Garden Planner — Design Your Best Garden Ever
Vegetable and Herb Companion Planting