Gardening
As a rule, seeds should not be buried any deeper than their diameter. Forget the quarter-inch planting depths you see on many seed packets. That's too deep for all but the biggest seeds, such as peas and beans. Some seeds even need light to germinate—don't bury those at all. Cover these seeds: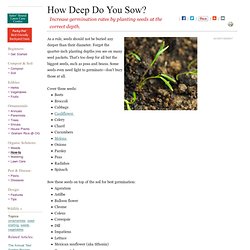 Organic Gardening Guide to Correct Seed Planting Depth
Compost Soil - How to Add Compost to Soil Video
Adding compost to soil is an excellent way to give your garden much needed nutrients and extra moisture. Learn this simple technique & flex your green thumb today!See Transcript Hi, I'm Sam Barrett, owner of Sam Barrett Designs.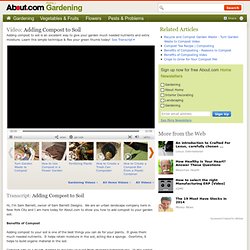 Potting Soil Recipes
2 part peat moss or coir 1 part perlite The second recipe is a soilless recipe based on the Cornell Mix concept; the third is a classic soil-based formula. Organic substitute for Cornell Mix (large quantity)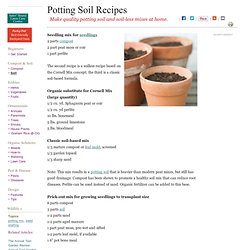 Byron's World Famous Tea Recipe For Starting Seeds (Entire Thread) -
Posted by: Byron 4a/5b NH (My Page) on Tue, Feb 26, 02 at 10:36 I use a weak tea formula. Make a cup of tea, anything that you have. Let it steep for 4 min, then dump it.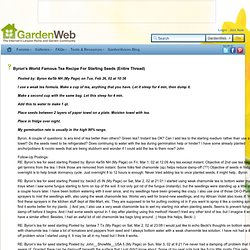 Use Your Egg Cartons to Grow Seedlings - CHOW Tip
Homemade Organic Aphid Spray
Aphids are pesky little critters who usually top a gardener's list of "most hated" insect pests. The tiny pearly green or milky white insects are almost impossible to avoid. They love just about all vegetables and ornamentals. Apple trees, roses and beans are especially susceptible to aphid attack, and symptoms of aphid infestation include curled leaves, deformed fruit and honeydew secretions on the plant. Fortunately, aphids can be controlled well with several cultural practices, and chemical controls are seldom necessary. Identifying AphidsOnce aphids are noticed, act quickly.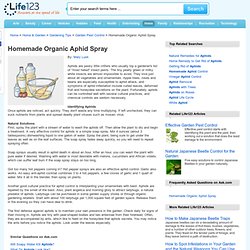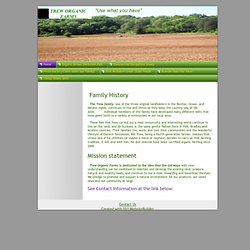 Family History The Trew family, one of the three original landholders in the Benton, Ocoee, and Delano region, continues to live and thrive as they keep the country way of life alive. Individual members of this family have developed many different skills that have given birth to a variety of enterprises in our local area. These folk that have carved out a most resourceful and interesting world continue to live on the land, and do business in the same gentle fashion here in Polk, Bradley and McMinn counties. Their families live, work, and love their communities and the wonderful lifestyle of Eastern Tennessee.
Home - Trew Organic Produce, Berkshire Pork and Shropshire Sheep breeders
Biological Solutions For Pest Management Since 1950 RVI produces and distributes insects and other organisms, supplies and tools for biological control of pests. We are pioneers in the use of natural enemies in ecologically based pest management.
Organic Pest Control, Biological Solutions for Pest Management, Rincon Vitova Insectaries
Hardiness Zones, Gardening Zones, Growing Zones and Plant Zones refer to defined geographic regions that can support specific plants, flowers and trees. The zones define a minimum range of temperatures that a plant or tree can survive safely in that zone. The most commonly used Hardiness Zones were defined by the USDA.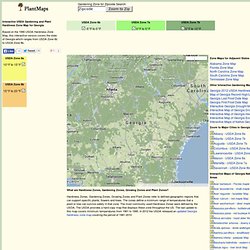 Georgia Interactive USDA Plant Hardiness Zone Map
The Antique Rose Emporium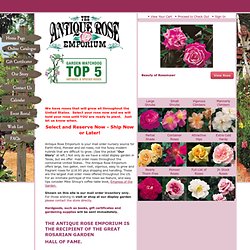 The Antique Rose Emporium We have roses that will grow all throughout the United States. Select your rose now and we will hold your rose until YOU are ready to plant. Just let us know when. Select and Reserve Now - Ship Now or Later! Antique Rose Emporium is your mail order nursery source for Earth-Kind, Pioneer and old roses, not the fussy modern hybrids that are difficult to grow.
Sources of Organic Fertilizers and Amendments Search Results: ATTRA - National Sustainable Agriculture Information Service
April 28, 2002|By Dennis Bishop | Dennis Bishop,Special to the Sun Q. We are planting asparagus in our community garden plot and it was recommended that we incorporate rock phosphate into the soil before planting. What is rock phosphate?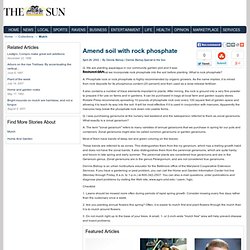 Amend soil with rock phosphate
Storing vegetable seeds to re-use the following year can save you money and time. However you do need to keep the seeds in a cool dark dry place if they are to remain viable. The following seed viability table show the most popular seeds and the average length of time that you can expect to be able to store the seed for. The third column show the maximum length of time recorded for that vegetable seed. The table above has been drawn up from a combination of personal experience, talking to other gardeners and researching in books and on the internet, I would be grateful for any comments, feedback etc. or any additions.
Vegetable Seed Viability
Find out if your soil is acidic or alkaline without a pricey test kit. Difficulty: Easy Time Required: 15 minutes or less Here's How: Scoop some soil into a container.
Everything You Need to Know About Composting With Worms | Verge Permaculture
Following my recent blog post on the Do-It-Yourself Vermipod, I've been receiving a ton of questions from folks who built Vermipods and are looking for information on how to manage and maintain their new pets. So here's a compilation called Everything You Need To Know About Composting With Worms… Common Worm Species Eisenia fetida: Pronounced "iSEEnee a FETid a", is a worm that can process a large amount of organic material in their natural environment. They tolerate large temperature, moisture and pH ranges and can also tolerate handling well. Eisenia andrei is closely related to the Eisenia fetida and is known as the "red tiger".
How to Grow an Edible, Vertical Garden in Five Steps - Cities
It's hard to believe but, yes, spring is on its way. And with it all kinds of wonderful green things like arugula, celery, and cherry tomatoes. If you're a gardener, you've probably already started your seedlings (or at least have an order in for black seeded Simpson lettuce, Astro Arugula or sugar snap peas). If you're a first time gardener, now is the time to decide if you really want to dig in. Don't know what to grow?
5 Products that Will Get Your Kids Excited About Gardening This Year
Companion Plants
Garden designs & gardening tips. Natural, Organic and Conventional
Landscape Material Lawrenceville GA | Landscaping Supplies Dacula GA
Gardening Resources, Cornell University
Nimble NiteCap Seed Co.
Vegetable Garden Planner — Design Your Best Garden Ever
Vegetable and Herb Companion Planting