Activities
Initiatives: Poetry Out Loud: National Recitation Contest
Paula Golden: Keep Science Fairs Alive
Science fairs, those time-tested incubators of future American scientists and engineers and a national fixture for generations, are in trouble. Recent stories in major metropolitan newspapers across the country have reported that science fairs are being threatened with extinction when local sponsors drop out. In Los Angeles, the California Science Center is looking to find a sponsor for its annual California State Science Fair after a major corporate sponsor dropped out. Last year, the Irvine, Calif., Unified School District almost canceled its well-respected science fair because of lack of funding.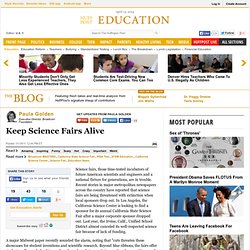 Beyond the Book Report: Ways to Respond to Literature Using New York Times Models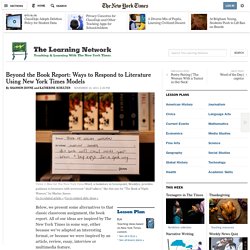 Victor J. Blue for The New York Times Word, a bookstore in Greenpoint, Brooklyn, provides guidance to browsers with irreverent "shelf talkers," like this one for "The Book of Night Women," by Marlon James. Go to related article » | Go to related slide show » Below, we present some alternatives to that classic classroom assignment, the book report. All of our ideas are inspired by The New York Times in some way, either because we've adapted an interesting format, or because we were inspired by an article, review, essay, interview or multimedia feature. Do you assign book reports, in any format, to your students?
DoItYourself Marketing Services
Parker/Ross rocking summarizers by Ms. Ross
What makes a good project
word meaning game
By: Ruth Sylvester and Wendy-lou Greenidge (2009) While some young writers may struggle with traditional literacy, tapping into new literacies like digital storytelling may boost motivation and scaffold understanding of traditional literacies. Three types of struggling writers are introduced followed by descriptions of ways digital storytelling can support their development. What it means to be literate has broadened to not only include traditional literacies, reading and writing print text for example, but also to reflect the needs of students living and learning in a digital world.
Digital Storytelling: Extending the Potential for Struggling Writers | Adolescent Literacy Topics A-Z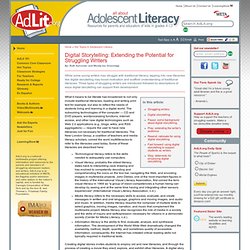 Nine things every teacher should know about words and vocabulary instruction Nine things every teacher should know about words and vocabulary instruction [pdf]
Building Vocabulary
Language Arts Activities | Interactive Whiteboard Resources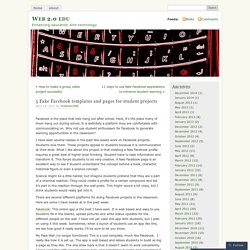 April 16, 2011 by mrkaiser208 Facebook is the place that kids hang out after school. Heck, it's the place many of them hang out during school. It is definitely a platform they are comfortable with communicating on. Why not use student enthusiasm for Facebook to generate learning opportunities in the classroom? I have seen several classes in the past few weeks work on Facebook projects.