Internet marketing
5 Ways To Record Videos For Your Social Media Marketing. No amount of sophisticated technology will ever take the place of connecting live, in person.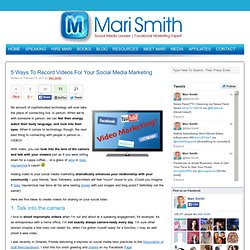 When we're with someone in person, we can feel their energy, watch their body language, and look into their eyes. When it comes to technology, though, the next best thing to connecting with people in person is… VIDEO! With video, you can look into the lens of the camera and talk with your viewers just as if you were sitting down for a cuppa coffee… or a glass of wine in Gary Vaynerchuk's case!! Adding video to your social media marketing dramatically enhances your relationship with your community – your friends, fans, followers, subscribers will feel *much* closer to you. To Understand Your Market, Harness The 7 Elements of Customer and Social Data. Who has more information about US's Gen Y?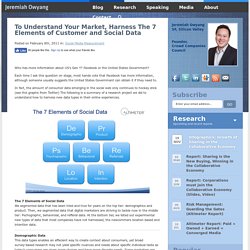 Facebook or the United States Government? Each time I ask this question on stage, most hands vote that Facebook has more information, although someone usually suggests the United States Governmant can obtain it if they need to. In fact, the amount of consumer data emerging in the social web only continues to hockey stick (see this graphic from Twitter) The following is a summary of a research project we did to understand how to harness new data types in their online experiences. The 7 Elements of Social Data We segmented data that has been tried and true for years on the top tier: demographics and product.
Best Internet Marketing Posts of 2010. Want more than what you see here?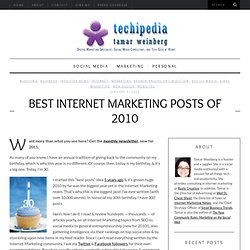 Get the monthly newsletter, new for 2011. As many of you know, I have an annual tradition of giving back to the community on my birthday, which is why this year is no different. The Chemistry of Content.
---