Crowdsourcing
Crowdsourcing books and blogs
Crowdsourcing
What Does Crowdsourcing Really Mean?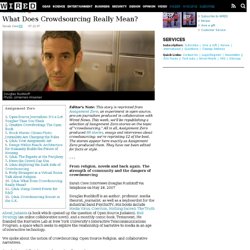 Editor's Note: This story is reprinted from Assignment Zero , an experiment in open-source, pro-am journalism produced in collaboration with Wired News. This week, we'll be republishing a selection of Assignment Zero stories on the topic of "crowdsourcing." All in all, Assignment Zero produced 80 stories , essays and interviews about crowdsourcing; we're reprinting 12 of the best.
Best Books on Open Innovation & Crowdsourcing - Wikinomics, Collaboration & Management
Introduction The MIT Center for Collective Intelligence recently published an important overview of the theory and mechanisms behind successful crowdsourcing efforts. Their report, called " Harnessing Crowds: Mapping the Genome of Collective Intelligence ", can be found here . Their research reveals similarities behind many high-profile collective intelligence (CI) systems, including Threadless , Wikipedia and InnoCentive .
10 Crowdsourcing Social Media Tools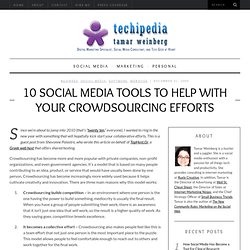 Since we're about to jump into 2010 (that's " twenty ten ," everyone), I wanted to ring in the new year with something that will hopefully kick start your collaborative efforts. This is a guest post from Shevonne Polastre, who wrote this article on behalf of TopHost.Gr , a Greek web host that offers shared hosting. Crowdsourcing has become more and more popular with private companies, non-profit organizations, and even government agencies. It's a model that is based on many people contributing to an idea, product, or service that would have usually been done by one person.
The phrase "on-demand human computation" has a sinister tinge to it, if only because the idea of sucking the brain power out of a group of people is generally frowned upon. And yet, if you call it "crowdsourcing" everything sounds so much friendlier! But calling Soylent "crowdsourced copy-editing" isn't quite fair, since the system performs the type of jobs that are somewhere in the gray area between man and machine. More than a spell check, not quite the nightside copy editor versed in AP style, Soylent really is on-demand computation. It's what all word processors need, the "Can you take a look at this?" button with a small workforce of people at your disposal.
It's people! Meet Soylent, the crowdsourced copy editor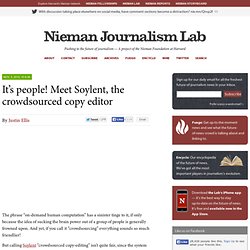 The Myth of Crowdsourcing - Forbes.com