Crowdsourcing
Crowdsourcing books and blogs. Careers at Chaordix HR Director Jodi Bagyinka is one of the longest serving members of the Chaordix family.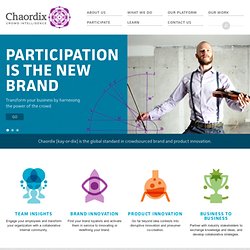 A veteran of Chaordix predecessor Cambrian House, Jodi has seen the company evolve from the most experimental of crowdsourcing laboratories to the rapidly-expanding global organization it is today. She's done all this with enormous energy and her sense of humor intact, both of which she also deploys as a writer of stand-up comedy for comedians all across North America. Want to hear one of Jodi's one-liners? Crowdsourcing. Best Books on Open Innovation & Crowdsourcing - Wikinomics, Collaboration & Management.
Open Innovation, crowdsourcing, co-creation… overlapping terminologies to describe a trend towards more open business models and a closer collaboration with customers.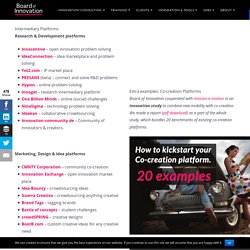 On this page we gather a list of inspiring examples. Intermediary Platforms Research & Development platforms Innocentive – open innovation problem solvingIdeaConnection – idea marketplace and problem solvingYet2.com – IP market placePRESANS (beta) – connect and solve R&D problemsHypios – online problem solvingInnoget – research intermediary platformOne Billion Minds – online (social) challengesNineSigma – technology problem solvingIdeaken - collaborative crowdsourcingInnovation-community.de - Community of innovators, creators, designers & thinkers (made by Hyve ) Marketing, Design & Idea platforms. How to Build a Collective Intelligence Platform to Crowdsource Almost Anything. Introduction The MIT Center for Collective Intelligence recently published an important overview of the theory and mechanisms behind successful crowdsourcing efforts.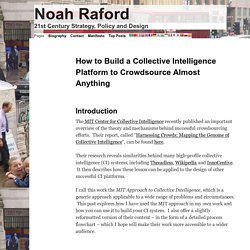 Their report, called "Harnessing Crowds: Mapping the Genome of Collective Intelligence", can be found here. Their research reveals similarities behind many high-profile collective intelligence (CI) systems, including Threadless, Wikipedia and InnoCentive. It then describes how these lesson can be applied to the design of other successful CI platforms. I call this work the MIT Approach to Collective Intelligence, which is a generic approach applicable to a wide range of problems and circumstances. 10 Crowdsourcing Social Media Tools. Since we're about to jump into 2010 (that's "twenty ten," everyone), I wanted to ring in the new year with something that will hopefully kick start your collaborative efforts.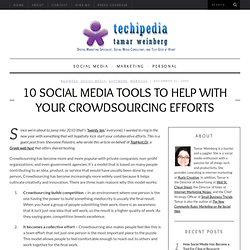 This is a guest post from Shevonne Polastre, who wrote this article on behalf of TopHost.Gr, a Greek web host that offers shared hosting. Crowdsourcing has become more and more popular with private companies, non-profit organizations, and even government agencies. It's a model that is based on many people contributing to an idea, product, or service that would have usually been done by one person.
It's people! Meet Soylent, the crowdsourced copy editor. The phrase "on-demand human computation" has a sinister tinge to it, if only because the idea of sucking the brain power out of a group of people is generally frowned upon.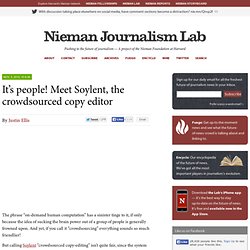 And yet, if you call it "crowdsourcing" everything sounds so much friendlier! But calling Soylent "crowdsourced copy-editing" isn't quite fair, since the system performs the type of jobs that are somewhere in the gray area between man and machine. More than a spell check, not quite the nightside copy editor versed in AP style, Soylent really is on-demand computation.
It's what all word processors need, the "Can you take a look at this?" Button with a small workforce of people at your disposal. Crowdsourcing. The Myth of Crowdsourcing - Forbes.com. Ushahidi :: Crowdsourcing Crisis Information (FOSS)
---