Sandwiches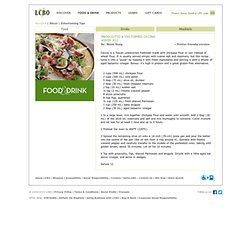 Cecina is a Tuscan unleavened flatbread made with chickpea flour or ceci instead of wheat flour. It is usually served simply with coarse salt and rosemary, but this recipe turns it into a "pizza" by topping it with fresh ingredients and serving it with a drizzle of aged balsamic vinegar.
Recipe Details
The idea for this sandwich has been floating around in my head for a few weeks now as I worked on the recipe and this weekend I finally nailed the it and got the chance to make it. The basic idea behind this sandwich was to combine sweet fig preserves with salty prosciutto in a grilled cheese sandwich that is cooked panini style in a grill press. Sweet things like jams and preserves work surprisingly well in grilled cheese sandwiches and when combined with something like prosciutto you definitely have a winning combination.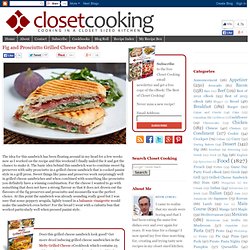 Fig and Prosciutto Grilled Cheese Sandwich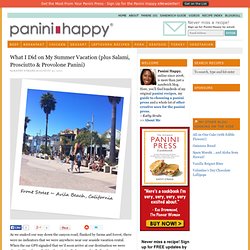 As we snaked our way down the canyon road, flanked by farms and forest, there were no indicators that we were anywhere near our seaside vacation rental.
Salami, Prosciutto and Provolone Panini Recipe, Central Coast Vacation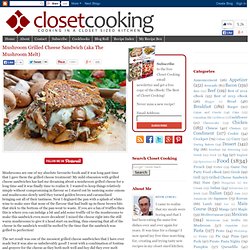 Mushrooms are one of my absolute favourite foods and it was long past time that I gave them the grilled cheese treatment! My mild obsession with grilled cheese sandwiches has had me dreaming about a mushroom grilled cheese for a long time and it was finally time to realize it.
"Mum, will you teach me to make that before I go to college?"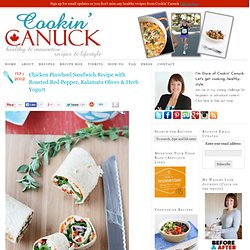 Chicken Pinwheel Sandwich Recipe with Roasted Red Pepper, Kalamata Olives & Herb Yogurt
Chicken Panini with Arugula, Provolone and Chipotle Mayonnaise
One word to describe this hot panini... dee-licious!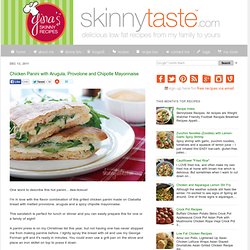 Drizzle the insides of both halves of bread with oil. Arrange the mozzarella on the bottom half, and the brie on the top half.
Avocado Panini with Brie, Mozzarella, Sun Dried Tomatoes, and Basil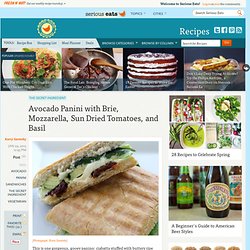 Dinner Tonight: Flank Steak Panini with Goat Cheese and Caramelized Onions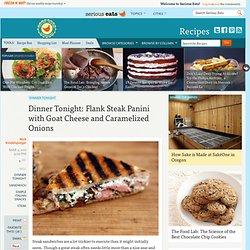 Steak sandwiches are a lot trickier to execute than it might initially seem.
Last weekend as we arrived at the movie theater to finally see The King's Speech (all those Academy Awards were well-deserved!)
Recipe: Turkey, Strawberries & Brie Panini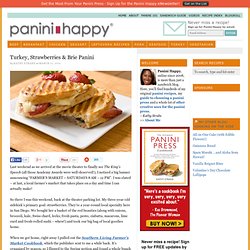 This is my second in a series of posts on Panini Happy that are sponsored by Panera Bread. Remember those lovely Slow-Roasted Tomatoes I shared yesterday?
Recipe: Roasted Tomatoes, Fresh Mozzarella & Basil Panini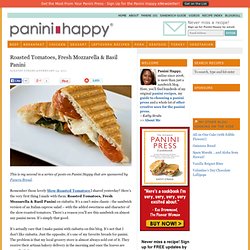 I certainly have been into the fresh field ripened tomatoes lately! I have been picking up at least a full basket of them every week and most weeks they have disappeared long before the end of the week. Primarily I have been enjoying them in BLT sandwiches but recently I had a new idea and that was for a caprese grilled cheese sandwich.
Pear, Arugula, and Brie Panini
Cook the Book: Ham, Brie, and Apple French Toast Panini
Today's recipe from this week's featured cookbook, Panini Express is for a Ham, Brie, and Apple French Toast Panini. Apologies in advance for going for another ham-and-cheese variation.
I can't believe Thanksgiving is tomorrow. Well, let me back up: I can't believe it's November. If you're still looking for some last-minute recipes for turkey day, feel free to browse my recipes here:
Leftover Turkey and Swiss Panini
I have been going sandwich crazy these last few weeks and my focus has been squarely pointed at both the perfectly ripe field tomatoes and the unripe green tomatoes that are available right now. While I was searching for ideas for yet another sandwich I stumbled across this grilled brie and goat cheese sandwich with bacon and green tomato recipe by Bobby Flay and as soon as I saw it, I knew that I would have to make it.
Grilled Brie and Goat Cheese Sandwich with Bacon and Green Tomato
In a million years, I never thought I'd write (or even think) these words: I love bacon jam. (Generations of my family are wringing their hands. I can't see them, but I know.)
Recipe for bacon jam and cheese panini
Italian Sausage and Roasted Pepper Panini