Serial Programming
performance - Is Fortran faster than C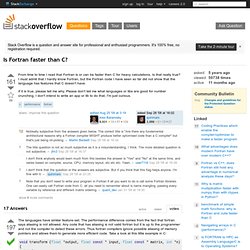 There is another item where Fortran is different than C - and potentially faster. Fortran has better optimization rules than C. In Fortran, the evaluation order of an expressions is not defined, which allows the compiler to optimize it - if one wants to force a certain order, one has to use parentheses. In C the order is much stricter, but with "-fast" options, they are more relaxed and "(...)" are also ignored.
Articles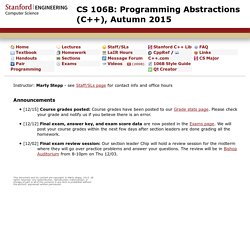 CS106B: Programming Abstractions
Announcements April 2nd, 2014 Jess, the Head TA, will be hosting a Qt Creator Installation Help Session on Thursday, April 3rd from 1:00pm to 4:00pm in the LAIR. The LAIR is on the second floor of Tresidder Union next to the FedEx.
Fortran90 vs C vs C++: not a troll!!!
Ahhh, yes, the perennial debate that leads inevitably to broken bottles and fisticuffs. I'm being quite sincere here, though, although I'm sure the end of the thread may be ignoble. What I'm wondering is this: