Internet
Earlier this year http://babelfish.yahoo.com was shut down. The Pipes translate module relied on this service and has also been deprecated. Pipe developers have been looking for a solution to this gap. One of the available free solutions we've been … more We are introducing a new module, the XPATH Fetch Page. We are also going to deprecate the Fetch Page module at the end of June.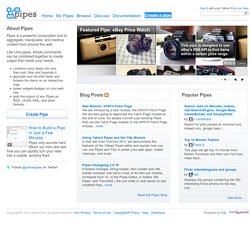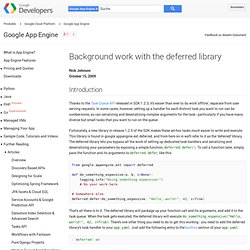 Einführung Dank des im SDK 1.2.3 veröffentlichten Aufgabenwarteschlagen-APIs ist es einfacher als je zuvor, "offline" zu arbeiten, ohne Nutzern Abfragen bereitzustellen. In einigen Fällen kann das Einrichten eines Handlers für jede einzelne Aufgabe, die Sie ausführen möchten, so aufwendig sein wie das Serialisieren und Deserialisieren komplexer Argumente für die Aufgabe. Dies gilt insbesondere, wenn Sie über viele verschiedene, aber kleine Aufgaben verfügen, die Sie für die Warteschlange ausführen möchten.
Background work with the deferred library - Google App Engine - Google Code
Bellicose Beliefs: Multiuser Chatroom with App Engine Channel API
Using Visualizations - Google Chart Tools / Interactive Charts (aka Visualization API) - Google Code
Five years ago, we launched a conference based on a simple idea, and that idea grew into a movement. The original Web 2.0 Conference (now the Web 2.0 Summit ) was designed to restore confidence in an industry that had lost its way after the dotcom bust. The Web was far from done, we argued. In fact, it was on its way to becoming a robust platform for a culture-changing generation of computer applications and services. In our first program, we asked why some companies survived the dotcom bust, while others had failed so miserably. We also studied a burgeoning group of startups and asked why they were growing so quickly.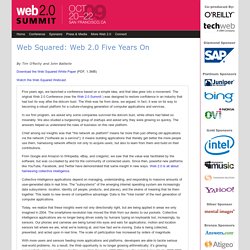 La génération Y va tout changer | ReadWriteWeb France