Jquery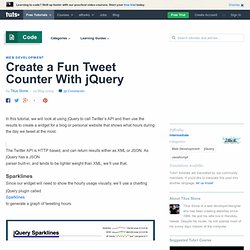 In this tutorial, we will look at using jQuery to call Twitter's API and then use the results to create a widget for a blog or personal website that shows what hours during the day we tweet at the most. The Twitter API is HTTP based, and can return results either as XML or JSON. As jQuery has a JSON parser built-in, and tends to be lighter weight than XML, we'll use that.
Create a Fun Tweet Counter With jQuery
Update du 5 Octobre 2011: les tutoriels ont beau datés de 2007, ils sont en cours de modifications pour y ajouter les fonctionnalités des dernières versions de WordPress.