Innovation
Get flash to fully experience Pearltrees
Without inclusion there can be no creativity.
How does the world's No. 1 social network rapidly develop learning for a young tech-savvy workforce?
I was glancing through my Twitter feeds looking at all the good ideas that flow through the many people I follow.
in Share 0 "Welcome, O life! I go to encounter for the millionth time the reality of experience and to forge in the smithy of my soul the uncreated conscience of my race." – James Joyce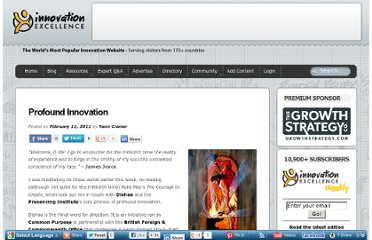 For most companies, conventional wisdom says that collaborative teams offer the best path to generating compelling innovation. Behind this notion is that high-performance and diverse groups are best suited to cope with technology complexity, commercialization challenges and as well as stick handle through management gates such as securing buy-in and resources.