Barc
Google Wallet has been updated to include a variety of new features, an improved UI for the transaction detail screen and several bug fixes, according to the search giant. For those unfamiliar, Google Wallet is a new service that allows users to make mobile payments from their mobile devices using Google Prepaid Cards or a Citi MasterCard. At the moment, the service is extremely limited — only available to users rocking Sprint's Nexus S 4G — but availability to other phones and carriers should be announced in the coming months. One of the biggest improvements is the addition of in-app offers, which replace the email notifications that were sent our for each offer when the service was first announced. Here's a full list of the updates and enhancements: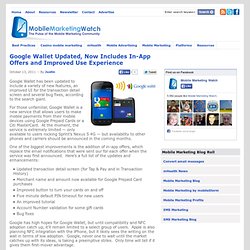 Google Wallet Updated, Now Includes In-App Offers and Improved Use Experience
Another day, another LBS app enters the space. Today, Kima Labs — a startup founded by two Amazon veterans — announced a new LBS app dubbed "Barcode Hero," which uses the same game-mechanics as Foursquare, but does so for product categories instead. In an attempt to "make shopping more social," Barcode Hero works by allowing a user to take their phone into a store, launch the app and start scanning the barcodes of items they're interested in.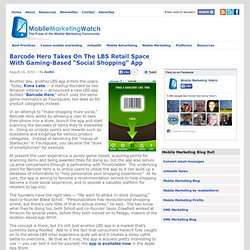 Barcode Hero Takes On The LBS Retail Space With Gaming-Based "Social Shopping" App
iPhone apps to help you stick to your budget - iPhone app recommendations - Kristen Nicole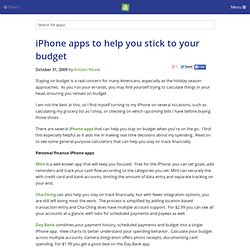 Staying on budget is a real concern for many Americans, especially as the holiday season approaches. As you run your errands, you may find yourself trying to calculate things in your head, ensuring you remain on budget. I am not the best at this, so I find myself turning to my iPhone on several occasions, such as calculating my grocery list as I shop, or checking on which upcoming bills I have before buying those shoes. There are several iPhone apps that can help you stay on budget when you're on the go.
ShopSavvy (Barcode Scanner and QR Code Reader)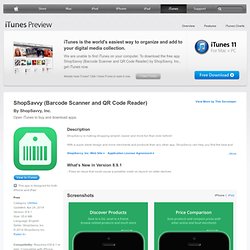 Description ShopSavvy is making shopping simpler, easier and more fun than ever before! With a super sleek design and more merchants and products than any other app, ShopSavvy can help you find the best and local prices, reliable product info, and allow to shop anywhere you want.
ocr sdk open source - חיפוש ב-Google
Open-Source OCR Software, Sponsored by Google
Google sponsors the development of an open-source OCR software at the IUPR research group. "OCRopus is a state-of-the-art document analysis and OCR system, featuring pluggable layout analysis, pluggable character recognition, statistical natural language modeling, and multi-lingual capabilities." "The goal of the project is to advance the state of the art in optical character recognition and related technologies, and to deliver a high quality OCR system suitable for document conversions, electronic libraries, vision impaired users, historical document analysis, and general desktop use," explains Thomas Breuel, who leads the project. The software is partly based on Tesseract, the best open source OCR engine available for now. While the project is expected to be released at the end of next year and will be used for Google's book scanning project, the team has some interesting applications in mind: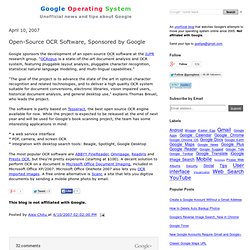 Description ~ Special promotion, only $2.99. ~ (MSRP:$9.99).* Compatible with iOS 7/iPhone 5S/5C/5 * Wall Street Journal recommends it to all professionals. Grab it, manage your life.* Awards and Laurels *• Named Best Mobile App OCR by 2010 MOBI Awards• Winner of the CTIA 2010 E-Tech Award for Mobile Applications - Pro-sumer/Business Productivity• Secured a spot among the Top 10 apps in the Business category in 194 countries• Ranked #1 Business app in US App Store• Ranked #1 Business Card Scanning application in Macworld.com• The preferred business card management tool of mobile phone developers like HTC, telecommunications companies such as CHT/Taiwan Mobile and CRM developers like JustSystems• Over 20 million users worldwide
WorldCard Mobile - business card reader & business card scanner
Top OCR Apps for Android and iOS