Startup
Apps
StartupStay Offers Entrepreneurs Accommodation and Networking. Keeping costs down for jet setting entrepreneurs may have become a little easier with the recent launch of StartupStay.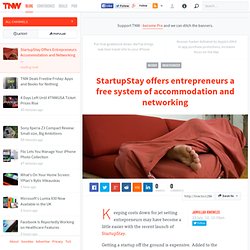 Getting a startup off the ground is expensive. Added to the predictable costs is the need to meet with other businesses and possible investors anywhere in the world. In an effort to organise like-minds and work out ways for entrepreneurs to stay in free accommodation, Startup Stay provides a kind of Airbnb for businesses. How might we support web entrepreneurs in launching and growing sustainable global businesses? Challenge Brief Web entrepreneurship is emerging as a key building block for economies globally.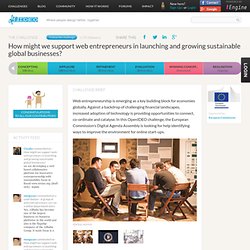 Against a backdrop of challenging financial landscapes, increased adoption of technology is providing opportunities to connect, co-ordinate and catalyse. In this OpenIDEO challenge, the European Commission's Digital Agenda Assembly is looking for help identifying ways to improve the environment for online start-ups. Why Facebook is Killing Silicon Valley. We choose to go to the moon in this decade and do the other things, not because they are easy, but because they are hard, because that goal will serve to organize and measure the best of our energies and skills, because that challenge is one that we are willing to accept, one we are unwilling to postpone, and one which we intend to win… John F.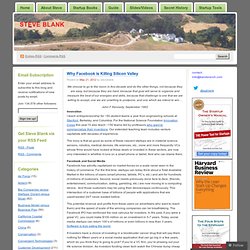 Kennedy, September 1962. Comprendre le fonctionnement des startups pour améliorer leur réussite. Par Hubert Guillaud le 19/04/12 | 6 commentaires | 2,735 lectures | Impression Voilà un an qu'a été lancé un projet de R&D collaboratif original Startup Compass, se désignant comme "le génome des startups", rapporte Rip Empson pour TechCrunch.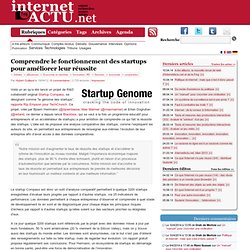 Ce projet, créé par Bjoern Herrmann (@bjoernlasse, Max Marmer (@maxmarmer) et Ertan Dogrultan (@ertand, ce dernier a depuis lancé Blackbox, qui se veut à la fois un programme éducatif pour entrepreneurs et un accélérateur de startups) a pour ambition de comprendre ce qui fait la réussite des startups. L'idée est de proposer une analyse comparative des startups, comme l'expliquent les auteurs du site, en permettant aux entrepreneurs de renseigner eux-mêmes l'évolution de leur entreprise afin d'avoir accès à des données comparatives. "Notre mission est d'augmenter le taux de réussite des startups et d'accélérer le rythme de l'innovation au niveau mondial. Startups, This Is How Design Works – by Wells Riley.
CM
France. 4 Questions to Ask Startups Before Pitching. Envato Studio is an online marketplace for freelance services focused on design and web-development.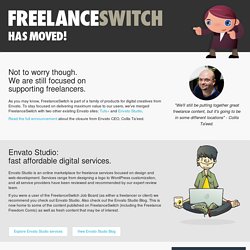 Services range from designing a logo to WordPress customization, and all service providers have been reviewed and recommended by our expert review team. If you were a user of the FreelanceSwitch Job Board (as either a freelancer or client) we recommend you check out Envato Studio. Also check out the Envato Studio Blog. Communication. Berlin. Le Camping: Not Just Another Accelerator. 12 December '11, 05:21pm Follow It seems that you can't blink without another startup accelerator launching in Europe these days.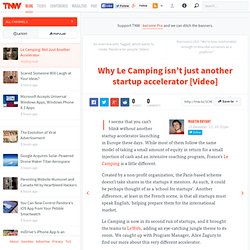 While most of them follow the same model of taking a small amount of equity in return for a small injection of cash and an intensive coaching program, France's Le Camping is a little different. Created by a non-profit organization, the Paris-based scheme doesn't take shares in the startups it mentors.
---