PHP
The cronTab, or "Cron Table", is a Linux system process / daemon which facilitates the scheduling of repetitive tasks thereby easing up our day to day routine. In this tutorial, we'll create a dynamic PHP class that, using a secure connection, provides us with a means to manipulate the cronTab! Background – An Overview of the Crontab Let's face it, having the ability to schedule tasks to run in the background is just great! From backing up an SQL database, fetching / sending emails to running clean up tasks, analyzing performance, or even grabbing RSS feeds, cron jobs are fantastic! Although the syntax of scheduling a new job may seem daunting at first glance, it's actually relatively simple to understand once you break it down.
Managing Cron Jobs with PHP
sebastianbergmann's phploc at master - GitHub
dimanche, septembre 9 2012, 22:42 Introduction sur les Tests Unitaires - Support de Formation Par Olivier Hoareau - Evènements - Lien permanent Demain je donnerai une formation sous forme de Dojo sur le refactoring par les tests d'une application métier chez un de mes clients. Voici mon support de formation pour la première partie de la matinée sur le rappel théorique sur les tests unitaires.
PHPPRO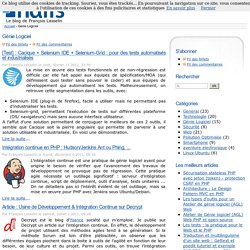 Génie Logiciel - Web, php, internet, le blog de François Lasselin
lundi, février 13 2012 [Test] : Cacique + Selenium IDE + Selenium-Grid : pour des tests automatisés et industrialisés Par François Lasselin le lundi, février 13 2012, 23:59 La mise en œuvre des tests fonctionnels et de non-régression est difficile car elle fait appel aux équipes de spécification/MOA (qui définissent quoi tester sans pouvoir le coder) et aux équipes de développement qui automatisent les tests. Malheureusement, on retrouve cette segmentation dans les outils, avec:Selenium IDE (plug-in de firefox), facile a utiliser mais ne permettant pas d'industrialiser les tests. Selenium-grid, permettant l'exécution de tests sur différentes plateforme (OS/ navigateurs) mais sans aucune interface utilisateur.
Architecte Web, Architecture PHP | Architecte Web ← Black Syndicate
L'AFUP, Association Française des Utilisateurs de PHP est une association loi 1901, dont le principal but est de promouvoir le langage PHP auprès des professionnels et de participer à son développement. L'AFUP a été créée pour répondre à un besoin croissant des entreprises, celui d'avoir un interlocuteur unique pour répondre à leurs questions sur PHP. Par ailleurs, l'AFUP offre un cadre de rencontre et de ressources techniques pour les développeurs qui souhaitent faire avancer le langage PHP lui même. Le PHP Tour Lyon 2014 annonce son thème de prédilection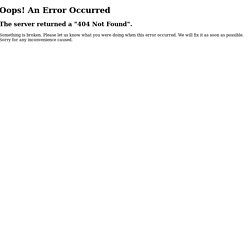 promouvoir le PHP auprès des professionnels | Association França