PHP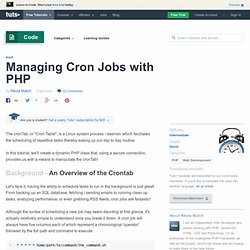 The cronTab, or "Cron Table", is a Linux system process / daemon which facilitates the scheduling of repetitive tasks thereby easing up our day to day routine. In this tutorial, we'll create a dynamic PHP class that, using a secure connection, provides us with a means to manipulate the cronTab! Background - An Overview of the Crontab Let's face it, having the ability to schedule tasks to run in the background is just great! From backing up an SQL database, fetching / sending emails to running clean up tasks, analyzing performance, or even grabbing RSS feeds, cron jobs are fantastic! Although the syntax of scheduling a new job may seem daunting at first glance, it's actually relatively simple to understand once you break it down.
Managing Cron Jobs with PHP
sebastianbergmann's phploc at master - GitHub
README.md phploc is a tool for quickly measuring the size and analyzing the structure of a PHP project. Installation PHP Archive (PHAR)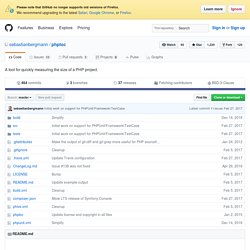 dimanche, septembre 9 2012, 22:42 Introduction sur les Tests Unitaires - Support de Formation Par Olivier Hoareau - Evènements - Lien permanent Demain je donnerai une formation sous forme de Dojo sur le refactoring par les tests d'une application métier chez un de mes clients. Voici mon support de formation pour la première partie de la matinée sur le rappel théorique sur les tests unitaires.
PHPPRO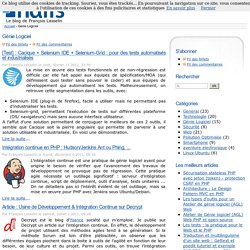 Génie Logiciel - Web, php, internet, le blog de François Lasselin
lundi, février 13 2012 [Test] : Cacique + Selenium IDE + Selenium-Grid : pour des tests automatisés et industrialisés Par François Lasselin le lundi, février 13 2012, 23:59 La mise en œuvre des tests fonctionnels et de non-régression est difficile car elle fait appel aux équipes de spécification/MOA (qui définissent quoi tester sans pouvoir le coder) et aux équipes de développement qui automatisent les tests. Malheureusement, on retrouve cette segmentation dans les outils, avec:Selenium IDE (plug-in de firefox), facile a utiliser mais ne permettant pas d'industrialiser les tests. Selenium-grid, permettant l'exécution de tests sur différentes plateforme (OS/ navigateurs) mais sans aucune interface utilisateur.
Architecte Web, Architecture PHP | Architecte Web ← Black Syndicate
2mar/10 Intégration Continue PHP avec JIRA et Bamboo Si vous cherchez comment monter un serveur d'intégration continue PHP intégré à JIRA avec Bamboo, la solution se trouve peut-être dans cet article de Mike Willbanks : PHP Continuous Integration with Atlassian Bamboo. Cette plateforme d'intégration continue PHP-Bamboo vous permettra : d'obtenir des métriques logiciel (software metrics) avec PHP Dependde mettre en place un navigateur de code avec PHP Code Browserde tester le respect de vos standards de code avec PHP Code Snifferde détecter la présence de code redondant avec PHP Copy/Paste Detector (PHPUnit)de tester l'optimisation de votre code avec PHP Mess Detectord'effectuer vos tests unitaires avec PHPUnit N'ayant pu tester moi-même la mise en place du serveur d'intégration Bamboo et son intégration avec PHP, je suis avide de tout retour d'expérience sur le sujet.
We are continuing to work through the repercussions of the php.net malware issue described in a news post earlier today. As part of this, the php.net systems team have audited every server operated by php.net, and have found that two servers were compromised: the server which hosted the www.php.net, static.php.net and git.php.net domains, and was previously suspected based on the JavaScript malware, and the server hosting bugs.php.net. The method by which these servers were compromised is unknown at this time. All affected services have been migrated off those servers. We have verified that our Git repository was not compromised, and it remains in read only mode as services are brought back up in full. As it's possible that the attackers may have accessed the private key of the php.net SSL certificate, we have revoked it immediately.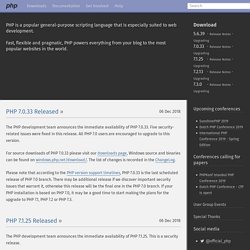 L'AFUP, Association Française des Utilisateurs de PHP est une association loi 1901, dont le principal but est de promouvoir le langage PHP auprès des professionnels et de participer à son développement. L'AFUP a été créée pour répondre à un besoin croissant des entreprises, celui d'avoir un interlocuteur unique pour répondre à leurs questions sur PHP. Par ailleurs, l'AFUP offre un cadre de rencontre et de ressources techniques pour les développeurs qui souhaitent faire avancer le langage PHP lui même. Le PHP Tour Lyon 2014 annonce son thème de prédilection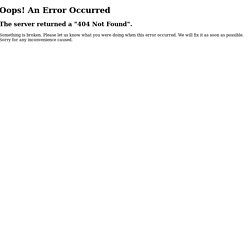 promouvoir le PHP auprès des professionnels | Association França