Connect
Windows Live ID SDK
The Windows Live™ ID service (formerly known as the Passport Network) is the identity and authentication system provided by Windows Live. More than 380 million users have credentials that work with Windows Live ID. You can use this powerful technology and enormous user base in your client applications and on your Web sites. The following resources tell you how.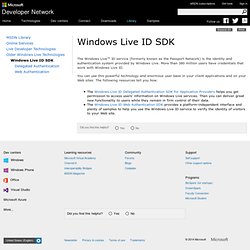 Friend Connect API - Google Code
As mentioned, the code above uses the common defaults for the options available when initializing the SDK. You can customize some of these options, if useful. Changing SDK Language In the basic setup snippet, the en_US version of the SDK is initialized, which means that all the dialogs and UI will be in US English.
Avril 2006 Concerne : Windows Live Microsoft Passport Service Résumé : Découvrez l'évolution de Microsoft Passport vers Windows Live ID et en quoi ce service facilite la vie des utilisateurs et des développeurs en ligne. (7 pages imprimées) Lire cet article en anglais Sur cette page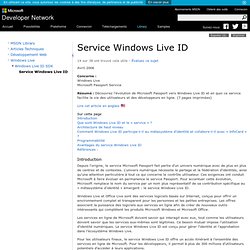 Service Windows Live ID